Another American Murdered in The Bahamas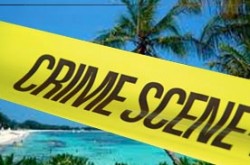 An American investor was found stabbed and mutilated at his home in The Bahamas.
Anthony Kyle Welch, 46, was discovered at his home on Albacore Drive in Grand Bahama, bound with duct tape with multiple stab wounds about his body, a laceration to his throat, and two fingers from each hand chopped off.
His family dog was also found in the home with multiple stab wounds.
The gruesome discovery of Mr Welch's body was made at around 10:00pm Friday night.
Mr Welch had been living in The Bahamas for seven years with his female companion from South Africa.
Fearing a backlash from U.S. officials for yet another murdered American in The Bahamas, Bahamian officials allegedly tried to cover up the crime, not officially pronouncing Mr Welch dead until at least 90 minutes later.
And the Bahamians may indeed have something to fear.  A prominent cruise consultant said recently that The Bahamas was "one gunshot away" from having the cruise lines flee the country.
But the cruise consultant may not know that The Bahamas government has allegedly paid corrupt members of the U.S. Embassy in Nassau to play down crime against Americans in The Bahamas, to help minimize any fallout, despite repeated incidents where Americans have been robbed, raped or murdered in the troubled island nation.

crime, grand bahama, murder, United States