BTVI to Facilitate Maintenance Course in Berry Islands
A group of 20 young men are about to benefit from a 16-week General Maintenance course as The Bahamas Technical and Vocational Institute  (BTVI) spreads its wings to the Berry Islands.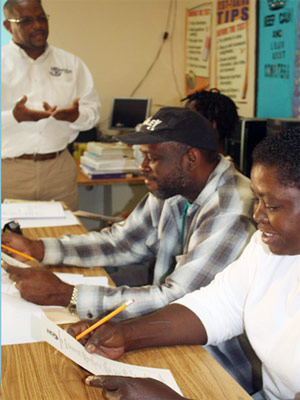 The ninth through 12th graders of R. N. Gomez All Age School, along with one adult, will be exposed to the fundamentals of carpentry, plumbing, tiling and electrical installation. The course will be conducted each Friday evening and Saturday, spanning a 10-hour period per weekend.
Principal, Brian Williams recognized a dearth of technical subjects at the school and thought it important to work in conjunction with BTVI.  "We're trying to do so much here, but manpower is limited.  The youth are excited and we're excited to enter this partnership with BTVI," he said.
BTVI previously conducted the same course in Harbour Island, Cat Island, Andros and Exuma.   Some distance learning is involved as a few parts of the theory will be delivered by BTVI instructors via Skype.
Vice-Principal, Christine Saunders, revealed that the school has been attempting to introduce such a program for over a decade.  "I've seen so many young men fall through the cracks. They left school and just hung around, so this is a dream come true," she exclaimed.
One of the students, Robert Gibson, is thrilled about the course to begin on January 24th.  "I want to be a police, but I'm interested in electrical work.  My daddy and I are always doing electrical stuff. We fix lights, install air conditions and ceiling fans," he stated.
His peer, Marcus Knowles, said he likes construction and was introduced to it by his father who is a contractor.  "I've been on jobs with him and can install doors, do crown molding, masonry and put up plywood," said the Head Boy.
"In life, it may come a time for me to be able to tile myself or if I have to fix a door, I can do it without paying someone $100.  I want to be self-sufficient," said the 16-year-old.
Meanwhile, BTVI's Dean of Construction Trades, Alexander Darville, recently conducted a workshop for facilitators, all of whom are residents of the Berry Islands and were selected based on their expertise in their respective fields.  Terran Winder will teach carpentry, Godfrey Francis, electrical installation; Denise Carey, tiling and Ivan Bridgewater, plumbing.
During that workshop on the island, facilitators were introduced to the online library, EBSCO Host, BTVI's portal for the input of grades and attendance, and the website for the Occupational Safety and Health Administration (OSHA).
Mr. Darville expressed the need for technical education.  "Having grown up in Briland, I understand.  Also, it helps to keep some of the men on the island.  Multiple disciplines are in the course and on the island, you have to be a multi-tasker."
Additionally, funding the course is The Berry Island Association.  President, William Kalis said it's one way of contributing to the community.
"Instead of sending one student for an annual course, we decided to do a shorter course, having a number of them exposed to what's possible and to see if they have an affinity for carpentry or plumbing or electrical," said Mr. Kalis who has lived on the island for 15 years.
"I saw students coming out of school who were good with their hands, but it was trial and error.  They could benefit from such schooling.  These kids, we need to get them jobs.  If they all go to Nassau, the community dies. The answer is through education. That's the only way," he noted.
Captions:
WORKSHOP – BTVI's Dean of Construction Trades, Alexander Darville, recently conducted a workshop for facilitators of a General Maintenance course mainly for youth of the Berry Islands.   Seen here are Ivan Bridgewater, plumbing and Denise Carey, tiling.  Other facilitators are Godfrey Francis, electrical installation and Terran Winder, carpentry .
PARTNERSHIP – BTVI will be facilitating a General Maintenance course for young men in the Berry Islands, which includes carpentry, tiling, plumbing and electrical installation.  Shown here are: BTVI's Dean of Construction Trades, Alexander Darville; R. N. Gomez All Age School's principal, Brian Williams and President of The Berry Islands Association, William Kalis. The association is funding the 16-week course.

eductaion, students