D'Aguilar: VAT Effect Will Trump Benefits of Baha Mar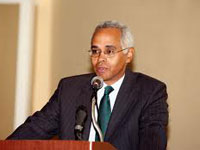 A prominent businessman yesterday warned that "the VAT effect will outweigh the Baha Mar effect" in 2014, adding that next year will "have been a failure" if unemployment remains close to 16 per cent.
Dionisio D'Aguilar said the 5,000 new Bahamian jobs created by this time next year, and the almost-$10.5 million in additional direct wages injected into the economy monthly, would likely be overshadowed by tax reform's "big elephant in the room".
Anticipating "a real mixed bag" in 2014, the Superwash president called on all Bahamians to "rally around" the $2.6 billion Baha Mar project and "make sure we pull this off successfully".
But, with VAT likely to have a six-month head start on Baha Mar via its July 1, 2014, implementation, Mr D'Aguilar said the wider business community was "losing confidence" in the Government's fiscal reform plans.
And, noting that the Christie administration had – and was continuing to lose – "the PR battle" over VAT, the former Chamber of Commerce president reiterated that it could not simply "tax its way out" of the Bahamas' fiscal and economic problems.
Click here to read the complete article at tribune242.com

Baha Mar, business, financial, taxes, VAT