Darold Miller Seems To Condone Sexual Harrassment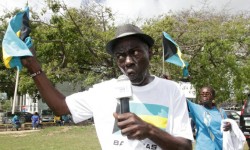 Women's rights activist Donna Nicolls yesterday defended the importance of sexual offence laws in the country after talk show host Darold Miller railed against sexual harassment laws during a national broadcast.
Very few cases of abuse are reported due to cultural stigma, according to Mrs Nicolls, who criticised Mr Miller for spreading damaging propaganda against the law.
Mrs Nicolls, senior volunteer counsellor at the Bahamas Crisis Centre, said: "It's an assumption that sexual harassment is stupid, especially in the Caribbean because I can call out 'hey sexy hey' to a woman and it's never considered that it may be offensive.
"It's a concept that a woman is just causing trouble for men, so that's why (Miller) says the laws are stupid and these things should not exist.
"The fact of the matter is that it's about protecting people, women's rights. You don't have the right to assume you have the right to catcall me, or say things to me."
She added: "His whole thing is personal and it's offensive because it is minimizing and belittling the plight of several women, a lot of whom will not say anything simply because of the propaganda he is spreading. Many women are frightened for their job and know that they are not going to have the support if they come forward because of the mind-set of Darold Miller and people like him are spreading."
Click here to read the complete article at tribune242.com

celebrities, jackass, media, women's rights