Eleven Finalists in BTC's 'Ford Explorer' Draw
BTC has named the eleven men and women who have moved one step closer to winning a 2014 Ford Explorer with motor insurance and Rubis gas for a year, plus a living room suite from Furniture Plus, and $25,000 to pay for utilities and other living expenses during 2014.  BTC's 'Win a New Ford Explorer' Grand Finale party game night, when the winner will be announced, will take place in Pompey Square on January 17th bringing an exciting and celebratory end to BTC's most successful promotion to date.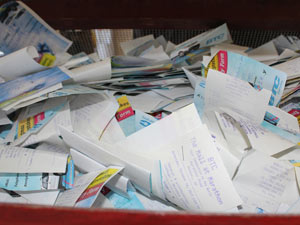 Last week, the eleven finalists' names were pulled from three massive tubular drums stuffed with tens of thousands of BTC customer sweepstake entries collected nationwide during December.  One drum held the New Providence entries and two drums held the entries from either Grand Bahama or the Family Islands.
The six finalists names from New Providence pulled from the largest drum are: Jillian Jones, Decker Munnings, Debra Skippings, Loneice Pawar, Gordon Soles and Halcie Hanna.  The two names pulled from the Grand Bahama drum are: Evangeline Bethel and Lisa Farrington and the three names from the Family Island drum are: Bethsada Jones and Mary Dean Nairn both from San Salvador and Val Turnquest from Long Island. Gary Smith, BTC Manager, Investigations and Fraud and BTC VP Carl Culmer, Network Operations, made the draws.
Along with tens of thousands of BTC customers the finalists had entered during a month-long promotion by choosing from the many ways to qualify for entry: paying their BTC bill in full, buying any mobile phone from BTC, signing up for a Postpaid plan, HomePhone Plus, or Hi-Speed Internet plan.
On January 17th, the eleven finalists will be on stage alongside the star attraction, the brand new Ford Explorer, when they each pick a key and one by one attempt to start the engine.  Last year, in a similar scenario hundreds of people flocked to the South West Plaza drawn to BTC's 'Let's Make A Deal' prize-winning party game night, where the highlight was the selection process to find the winner of the 'BTC Knight Rider Car Sweepstakes.'
In a nail biting finale, the crowd had to wait amid rising excitement until finalist number eight tried her luck before a winner was found. Pelar Sweeting with a roar of her new Ford engine proved she had selected the winning key!  Large crowds are again expected for this year's Grand Finale party night in Pompey Square on January 17th.
"This Christmas-time customer appreciation promotion generated by far the largest response we've had to any of our promotions to date, too many entries to count, but certainly tens of thousands," said Sr. Manager of Public Relations Jerome Sawyer.  "The fantastic prize package plus the additional BTC franchise stores nationwide which gave wider access to our products and services, offered far more customers a chance to enter to win."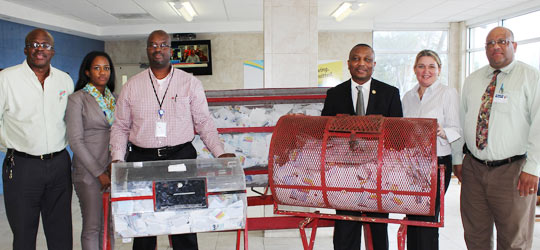 VP of Sales and Marketing for Furniture Plus, Christina Darville said they had partnered with BTC in many past promotions but the living room furniture suite was their biggest financial commitment to date.
"We're giving away a three-piece suite of furniture which represents are biggest promotional commitment to BTC to date. We've joined BTC in past promotions and always been very pleased with their style of marketing and overall professionalism. We like the direction BTC is going and we are likely to partner with them in the future."
Serena Williams for Jerome Sawyer
Photos BTC PR Department 
 
Photo captions:
Carl Culmer, VP of Network Services, shuffles the BTC entries in the barrel holding the New Providence sweepstake entries.
Tens of thousands of BTC sweepstake entry forms in three massive tubular barrels at the BTC JFK location.
"Can you read this finalists name?" BTC's Jerome Sawyer, Carol Barnett and Carl Culmer note the name of a New Providence finalist.
Byron Ferguson, Rubis Sales & Marketing Manager; Utundee Saunders, Rubis Marketing Sales executive;  Gary Smith BTC Manager Investigations & Fraud;  Carl Culmer BTC VP Network Services; Christina Darville, VP Sales & Marketing, Furniture Plus; Thomas Carey, Sales & Marketing, Furniture Plus.  

BTC, prizes