Grant Writing Workshop Hosted In Grand Bahama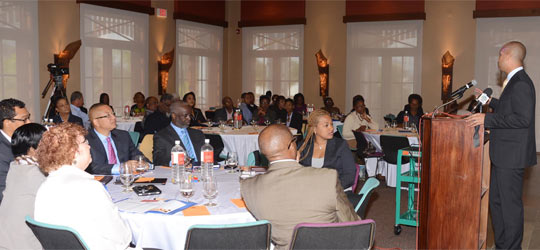 The Grand Bahama Port Authority, Limited (GBPA) in conjunction with the Grand Bahama Chamber of Commerce and Caribbean Export Development Agency (CEDA) hosted another successful grant writing workshop for SMEs on Grand Bahama.
Participants from various sectors on the island were given an opportunity to hear about reimbursable funding of up to 30,000 Euros or $40,671BSD available to businesses in 15 CARIFORUM countries.
"A major focus of our Business Development team at the Port Authority is to not only attract new business, but also assist business owners who are already making a contribution to the local economy.  Today's workshop is evidence of our continued commitment to helping your business grow," stated GBPA President, Ian Rolle.
He further explained that the exercise was geared towards assisting companies who have been operating a minimum of two years.  "Limited financial resources are often mitigating factors when businesses fail.  This workshop is geared towards reversing this trend through educating Bahamian firms and business support organizations on available funding, as well as the correct procedures for the application process," Rolle added.
To date, The Bahamas has recorded a 100% success rate, with a lone applicant receiving a direct assistance grant during the last call for entries.  CEDA's Competitiveness and Innovation Manager, Chris McNair, is optimistic that these numbers will grow.  "What we'd like to see is a lot more applicants from Grand Bahama and the entire Bahamas," he said.  "In our visits to the member states, what we've seen is that some countries in the region are very familiar with donor funding and applying for it.  Then you have others who are not that familiar."
Through educational workshops such as this, CEDA hopes to increase awareness of the programme and show local firms how to put forward an application that is completed correctly and thereby eligible for consideration.
"Training works.  We want to bring it to The Bahamas and see more successful applicants from here," McNair reiterated.  "This is very important to us because we want to get the money spent.  We want to help you access a grant to grow your business so that the impact can be felt on a community level, national and ultimately regional level," he stated.
This year's proposal call opened on January 17th.  Applications will be accepted until 4:30pm Barbados Time on March 7, 2014 and can be downloaded from the agency's website at www.carib-export.com.
The Grand Bahama Port Authority
Caption: WORKSHOP ATTENDEES: CEDA's Senior Grant Advisor, Kirk Brown dispenses practical information for local entrepreneurs and companies seeking to expand locally and abroad.

grand bahama, small business