Human Trafficking Is A 'Difficult Issue' For Police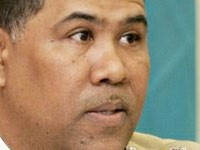 Human trafficking has been a "difficult" issue for the Royal Bahamas Police Force, but Police Commissioner Ellison Greenslade says they remained determined in their pursuit of smugglers who put people's lives at risk.
He noted that while there have been some interdictions and arrests, this illegal and risky activity has not yet been discouraged.
Mr Greenslade said: "We know who some of them are and we have arrested them before; they seem not to be discouraged from continuing that kind of activity and I am not sure quite why.
"It is something we have to look at again. We feel it is disgraceful and totally contrary to the law, and puts people at risk, and even leads to death."
He said Grand Bahama has had its share of unfortunate human smuggling accidents.
The most recent occurred last July when eight persons lost their lives after the boat they were on sank in waters off Holmes Rock. Among the dead was a young child.
There have also been several reported disappearances of persons who paid smugglers for illegal entry into the United States.
Click here to read the complete article at tribune242.com

corruption, crime, human trafficking, police