NAGB Prepares For Another 'Vibrant' Year of Art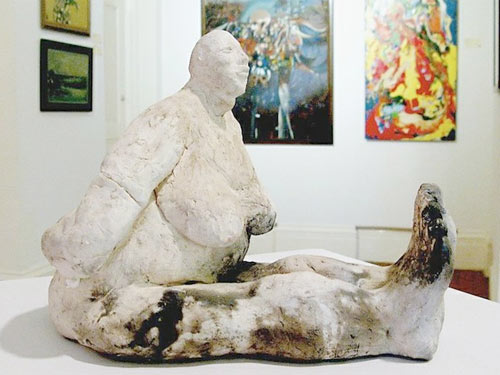 The National Art Gallery of the Bahamas is expecting 2014 to be another vibrant year. Amanda Coulson, NAGB's director, said the gallery will continue in the direction of hosting intriguing art shows and arts education workshops; engaging in community and regional projects and partnership; and encouraging national dialogue.
"Membership has doubled and visitor ship has at least tripled if not quadrupled. Part of that [success] is because we have more visitors coming in. We have a partnership with Majestic Tours and they are bringing more people in. We are working very hard with the community to keep it clean," she told Tribune Arts.
NAGB is also working to produce a cultural map for visitors that will featur Hillside House Gallery, the John Watlings Factory, EduCulture and D'Aguliar Arts Foundation.
"I find when you get off the boat, you know where to eat and where to buy diamonds. But you do not know where to go to discover our culture. So we want to have a map just dedicated to those galleries," she said.
The gallery is also moving forward with an anti-crime mural project in the over the hill community. NAGB is working in conjunction with an expatriate Bahamian living in Philidelphia.
Additionally, the NAGB has a diverse line up of shows for the year.
Swan Song of the Flamingo
The gallery ended its 2013 calendar on high note with Swan Song of the Flamingo exhibition by prominent Bahamian artist Kishan Munroe. Ms Coulson said the show is up at the gallery until the end of March. There are several other events surrounding the art exhibit that will be held between January – March.
"We have been getting a lot of visitors, so we thought we should promote the show even though it [is not a new show]. I think it is really important because this is the first time there has been a major series of paintings on Bahamian history done by a Bahamian artist on that kind of scale. The sinking of the HMBS Flamingo is such an important part of our history that lots of people do not know about it," Ms Coulson said.
At the end of the month, the gallery will host an evening of poetry where poems written about the event will be read. A re-staging of Shakespeare in Paradises' Speak The Speech will also be held in the gallery's ballroom.
"There was also a part of the play which dealt with the flamingo incident. We are doing a lot of programming around the show so that is important," she said.
Regional/Bahamian
Artist Showcase
Beginning in April, NAGB will host two shows back to back featuring a Bahamian artist and a regional artist. The artwork will be mounted in the ballroom which is the large southern room on the second floor. The first show will run from April – June and the second from July – October
"We invited a Bahamian artist to exhibit with a regional artist in these shows. The gallery has been very shy to have international artist here. It is touchy ground because you do not want it to seem as though you are spending government money on foreigners. But it is very important for a national institution to promote dialogue and also to be a place of research and a place for people to be able to come and see not just what happens locally but internationally as well. It is of course a very delicate move forward because I am very aware of the issues. So I thought this is a very good way to do it," she said.
Junkanoo Art Show
Although unconfirmed, Ms Coulson also hopes NAGB exhibits for the second time a Junkanoo show in the northern gallery from April – June. She is currently liaising with the members of the Junkanoo community to get the show off the ground.
"I put on the first Junkanoo show because there has never been a Junkanoo show held in the gallery in the eight years of its existence. Two years later I thought now we could do another show and we can connect with the community. I thought the Valley Boys was interesting because obviously with the dialogue we are having now with China and the Chinese people.
"What is interesting for me is that the Chinese have their New Year's at the end of February and for the Chinese New Year they actually hand manufacture these amazing dragons that could be 40 ft long and they wear them over pants that are adorned with raffia fringes, similar to the pants you would wear on your off the shoulder Junkanoo piece. I thought it would be interesting to ask the Chinese ambassador and the Chinese people here to access one of these hand made dragons and exhibit that along side some of The Valley Boys costumes," she said.
Minnis Family Retrospective
Bahamian artist Eddie Minnis will also host a retrospective exhibition later this year with his two daughters and possibly his son in law. Minnis is a visual artist who is known for painting exclusively with a palette knife with oil on canvas. Landscapes have been a common theme in most of his work. However because of his background in architecture, his paintings often feature quaint colonial structures of the Bahama islands.
NE7
Plans are underway for the next National Exhibition in November. NE7 is a biennial exhibition showcasing contemporary artists of Bahamian descent or those living and working in the Bahamas today.
By Jeffarah Gibson
The Tribune

arts, culture