Only Male Finalist Wins BTC's Ford Explorer Sweepstakes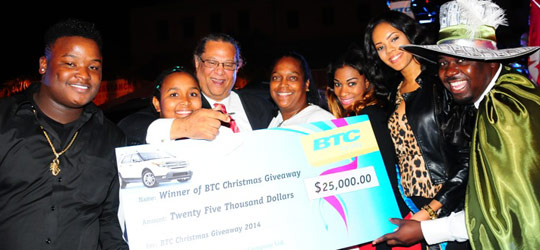 Gordon Soles, the lone male in a group of eleven sweepstakes finalists has won the BTC Grand Prize – a 2014 Ford Explorer, motor insurance and Rubis gas for a year, a Furniture Plus living room set and $25,000 to spend at will.
The Finals were held on stage in front of a crowd that packed Pompey Square in downtown Nassau on Friday night.  Hundreds had gathered for a fun evening of prize-winning games and musical entertainment where contestants vied for prizes including phones, data and phone cards or packages, BTC products and even a flat screen Samsung TV.
At the end of the evening, the Finalists, Jillian Jones, Decker Munnings, Debra Skippings, Loneice Pawar, Gordon Soles, Halcie Hanna, Evangeline Bethel, Lisa Farrington, Bethsada Jones, Mary Dean Nairn and Val Turnquest were introduced on stage and each selected a number representing a corresponding Ford key with a remote car alarm pad.  The winning key enabled the user to trigger the alarm on the shiny new Ford Escape.
Onlookers did not have long to wait. Contestant number three, Gordon Soles threw his hands in the air as the activated alarm signaled his win – he had picked the winning key!  Fireworks lit the sky and a Junkanoo rush-out elevated the excitement of the crowd.
Hugged by both his daughter Greer and partner, Tasha Major, Gordon Soles expressed his love for God and his appreciation for the big win.
"I don't pray or ask God for this kind of thing.  What I've learnt from God is that He answers my needs – if I need something He answers, and He teaches me, I have learnt faith that He will answer my needs," said a fervent Mr. Soles. "Just a couple of weeks ago, my partner and I sat down and discussed our needs – school fees, furniture, and a new car," said the winner of the prize package that met those very same needs.
"Through my life, He has taught me to have faith."
All Finalists received a new Samsung smartphone, travel expenses and accommodations at the British Colonial Hilton Hotel.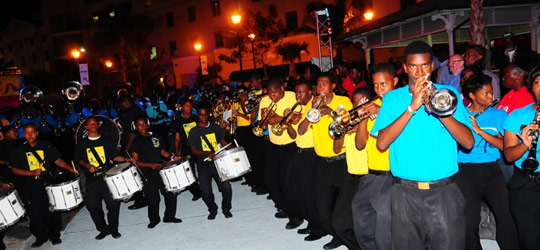 Captions (in order of appearance):
Gordon Soles won the Ford Explorer, car insurance and Rubis gas for a year, a cheque for $25,000 and a suite from Furniture Plus : BTC Dude, Greer Soles, Gordon Soles, Tasha Major, Taja Moxey, Jr. BTC StarMaker winner, Lexi Wilson Miss Bahamas.
Gordon Soles, the lone male Finalist, has the winning key to the 2014 Ford Escape. His daughter Greer captures the moment.
Ford Explorer 2014 – BTC Christmas Sweepstakes Grand Prize along with motor insurance, Rubis gas, $25,000 cash and a suite from Furniture Plus
Musical chairs provided lots laughs
Crowded Pompey Square for the BTC Sweepstakes Finals
Demetrius the Karaoke King, Miss Bahamas Lexi Wilson, prize winner
Urban Renewal Band

BTC, business, Cable & Wireless, prizes