Acklins Central High School Student Wins MICAL Spelling Bee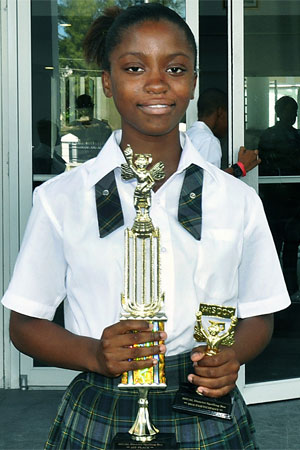 Jameila Singh, an eighth grade student of the Acklins Central High School was the winner of the 2014 MICAL District Spelling Bee.
Jameila beat out eight other finalists in the MICAL District to win the competition. She competed for 16 rounds against second place winner, Faleisha Johnson of Abraham's Bay High School for the win. Jameila correctly spelt the word 'galoot' to capture first place. Darneka McPhee of Abraham's Bay High School and Shellico Moxey Jr. of Crooked Island High School were tied for third place.
Top photo: The winners in the 2014 MICAL District Spelling Bee posed with their trophies after the event. Pictured above from left to right are Jameila Singh of Acklins Central High School, first place winner, Darneka McPhee of Abraham's Bay High School, second place winner, Faleisha Johnson of Abraham's Bay High School, third place winner and Shellico Moxey Jr. of Crooked Island High School, third place winner.  (Photo by Nerissa Hamilton)
Left: Jameila Singh of Acklins Central High School emerged as the winner of the 2014 MICAL District Spelling Bee. (Photo by Aletha Cooper)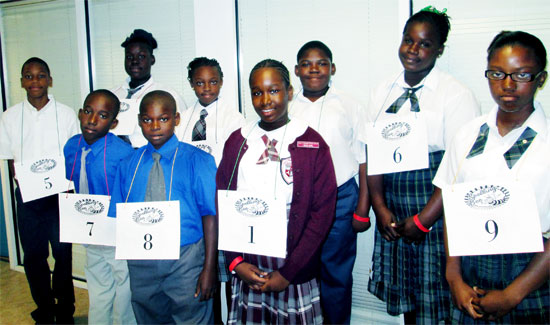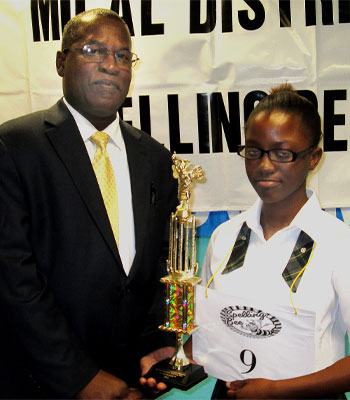 Above: Nine students from the MICAL District of schools participated in the 2014 MICAL District Spelling Bee. Pictured (Front row l-r) are Giovanni Smith, Salina Point Primary School; Shamar Francis, Salina Point Primary School; Ieasha Daxon, Ulric H. Ferguson Primary School and Jameila Singh, Acklins Central High School. Pictured (Back row l-r) are Raschede Williams, Crooked Island High School; Darneka McPhee, Abraham's Bay High School; Faleisha Johnson, Abraham's Bay High School; Shellico Moxey Jr., Crooked Island High School and Stephenique Rose, Acklins Central High School. (Photo by Nerissa Hamilton)
Right: Mr. Joel Lewis, District Superintendent for the MICAL District presented Jameila Singh with the winner's trophy after the 2014 MICAL District Spelling Bee competition. (Photo by Nerissa Hamilton)
Ministry of Education

competition, educational, islands, school, students