BTC's Home Internet/Landline Sales Up 400%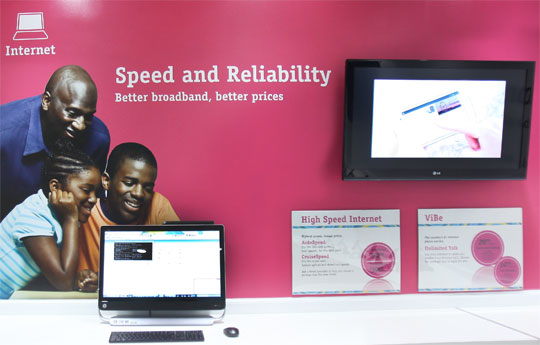 Competitive pricing on BTC's Broadband, Internet and Landline telephone home communication package has boosted the product's sales levels by 400%.
Odette Carey BTC Product Manager – Broadband, Landline, IP TV, Business Solutions, gave some insight into why sales have seen such a significant increase this current fiscal year.
"I feel the main driver is the fact that increasingly, people are recognizing that BTC provides the better-value, more affordable total communication package.  There is no doubt that BTC has the package price advantage over Cable Bahamas for Broadband, Internet and Landline services whether for home or office," said the product manager.  "Our sales figures are proof of this – up 400% over last year.
"Additionally, BTC is recognized as the truly national telecommunications provider by virtue of its active commitment to the expansion of Broadband and Internet access throughout the entire Bahama Islands via Next Generation Network (NGN) now close to completion.
"Sales have been driven by NGN implementation and now that we are 90% complete in the Family Islands we are seeing increased uptake including those people who have never had internet before because Cable, although obliged to, never offered it to them."
Ms. Carey said that on New Providence alone, approximately 85% of BTC Internet sales over the last 11 months were to Cable Bahamas customers.
"I feel it's BTC's better pricing that's drawing Cable customers to us. Our Premium fastest internet service is $34.99 for 16mbs, a 30% savings versus CBL's $49.50 (unbundled) for 15mbs."
Trebling the BTC Telesales force has paid off too, bringing significant growth to sales via direct calling.
"The sales team has been a lot more aggressive this past year with a beefed up Telesales team clocking up tremendous sales figures via direct contact.  This has proved far more effective and more useful to the customer than any in-store selling initiatives in the past. Broadband in particular has benefited from this approach.  Cable uses this method too but the customers always want to know the prices and BTC wins hands down every time on package or product bundling pricing.
"At the end of the day," summed up Ms. Carey, "BTC's more extensive coverage of the Family Islands and our better pricing overall nationwide is driving the upward sales figures."
Marlon Johnson, Sr. Vice President Brand and Communication, said it was very satisfying to move into the new BTC Fiscal Year which begins in April, with such a strong year behind them.
"We are seeing the results we knew were possible with the implementation of NGN which puts BTC Broadband, Internet and Landlines on par with many first world countries who have also recently moved to NGN," said the senior vice president.
"BTC has spent the last 2 years creating a world class communications infrastructure that puts The Bahamas at the forefront of technology and ensures BTC is ready and able to compete when market liberalization unfolds."
The Bahamas Telecommunications Company (BTC) is the leading telecoms operator in The Bahamas. BTC is jointly owned by Cable & Wireless Communications and the Government of The Bahamas.  Cable & Wireless Communications has both management and Board control.
Serna Williams

BTC, Internet