Carla Sweeting Is ERA Dupuch's Agent of the Year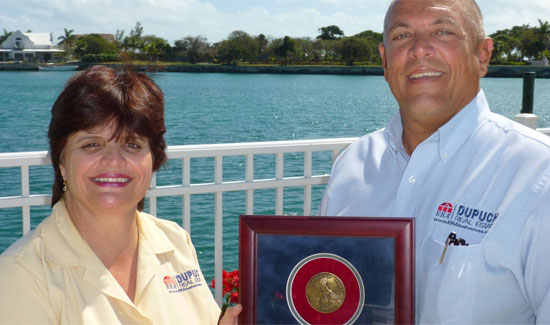 A woman who goes above and beyond to ensure clients are cared for has been named ERA Dupuch Real Estate's Agent of the Year.  Carla Sweeting swept the title after turning in a double win as the agency's top performer for 2013 and wrapping up the best year in her 13-year career.
"It was a banner year for Carla who exemplifies the two main characteristics of a successful Realtor, knowledge and dedication," said ERA Dupuch founder and President Peter Dupuch. "She knows this market like few others. Ask her about a house and she likely knows the ins and outs, its listing history and probably the price that was paid last time it was sold."
Beyond that, said Dupuch, it's dedication that made Sweeting a high achiever.
"We believe the Realtor's job is to do more than just list, market and bring a buyer to the vendor and once the offer is agreed between the parties, turn it over to the attorneys," said Dupuch. "And Carla is a stellar example of this. She goes way beyond. I've seen her become the right arm clients come to lean on, the friend who personally gets utilities hooked up, drives an elderly client to the bank, delivers documents by hand, opens up for appraisers and does whatever it takes to provide that sense of comfort and security that makes the sale or purchase of a home as seamless as can be.
Dupuch knows a thing or two about achievement himself. The firm has been the top performing ERA franchise affiliate in the region for many years.
Within the firm headquartered on East Bay Street, past top performers, including Ken Chaplin and Dave McCorquodale, won their bragging rights with high-end sales, primarily on Paradise Island. Sweeting's record was different – a combination of rentals, sales and re-sales, almost all by referral or repeat clients.
But while the woman with the personal touch worked more transactions, she said there is still a major void in the market.
"The void in the market is for the first time home buyer in the $250,000 – $350,000 range," said Sweeting, who served on the BREA board for five years. "We need both more inventory and more participation in that range from banks or other lenders."
ERA Dupuch Real Estate was founded in the year 2000 and is an affiliate of ERA Real Estate, a worldwide network of 2,300 offices and 31,000 agents.
Diane Phillips and Associates
Caption: ERA Dupuch's  Top Performer – ERA Dupuch Real Estate founder and President Peter Dupuch presents award to 13-year veteran real estate pro Carla Sweeting who walked away with agent of the year honours after experiencing her very best year ever. Sweeting says there is a void in the market with lack of inventory for starter homes in the range of $250,000-$350,000. The local firm has been the top performing affiliate among ERA franchises in the region for many years.

award, real estate