Pretty Girls Set To Compete For Miss Moreno Bahamas Contest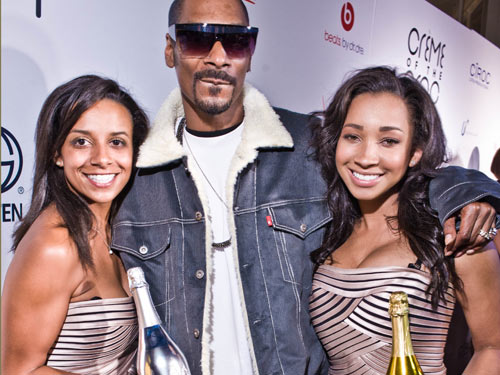 On Monday, February 10th, more than 30 beautiful Bahamian girls will be contesting to win the Miss Moreno Bahamas crown and to become Ibiza Bahama Nightclub's first calendar girl.
The contest starts on Monday night at 6pm with a first round to select 20 finalists. The finals catwalk show to crown Miss Moreno Bahamas is set for Thursday February 14, the day before Valentine's Day. All beautiful Bahamian girls who would like a job contract to attend Moreno BHLV events in the Bahamas are invited to compete.
Moreno BHLV (Beverly Hills, Las Vegas) is a Californian sparkling wine that is growing in popularity throughout the USA and is now available in the Bahamas through Nassau-based importers, Pitstop Wines & Spirits.
The delicious fruity and sweet bubbly was created to appeal to young glam drinkers, wedding guests and nightclub partiers. The Californian wine is sweeping into nightclubs and hotels in the USA and Latin America. Recently, Moreno was chosen by many after-parties at the Academy Awards, the Golden Globes and the Grammys.
Importers Pitstop Wines & Spirits is teaming with the new Ibiza nightclub to find three beautiful Moreno girls and the first "Ibiza Babe" calendar girl for the club's future calendar. The three Miss Moreno Bahamas winners will win contracts with Pitstop Wines & Spirits to promote Moreno BHLV sparkling wine at events and parties. They will also win a portfolio photo shoot and extensive name recognition and exposure throughout the year, as well as other prizes.
To enter, aspiring models and beautiful girls are asked to email hanapertova@gmail.com before noon on Monday February 10th stating name, cell phone and age. Alternatively, girls can apply at the Nassau Guardian or Pitstop Wines & Spirits on East Bay Street by the P.I. exit bridge, by filling out a form at the reception.
For Monday's initial casting round, entrants must be 18-28 years and bring their I.D. and their own bikini for a catwalk trial In a non-public setting. Select few judges will choose the 20 finalists. The club offers changing and powder rooms.
For the finals at 9pm on Thursday February 13th, guests can celebrate Valentine's, enjoy the catwalk show, cast their votes and enjoy specials on delicious Moreno sparkling wine.
With its delicious taste geared to the young party crowd, Moreno BHLV is known for its attractive labeling and custom wraps that often incorporate Swarovski Crystal Elements. Famous resorts such as Bellagio have chosen to privately-label Moreno and have adopted it as their in-house celebration drink.  Wedding parties and establishments can design their own Moreno labels and wraps.
Moreno is currently available at Ibiza and at the popular Cable Beach restaurant, Olives Meze Grill.
Pitstop Wines and Spirits, which imports fine wines, spirits and French champagnes, is located on East Bay Street near the Paradise Island exit bridge. The store is open Sunday from 1pm to 9pm and on weekdays from 9:30 am to 9:30pm. For enquiries, email hanapertova@gmail.com or call: (242) 394-2914 or 4.


beauty, contest