Reach Out Ministries Coordinator Represents Grand Bahama at U.S. State Department Exchange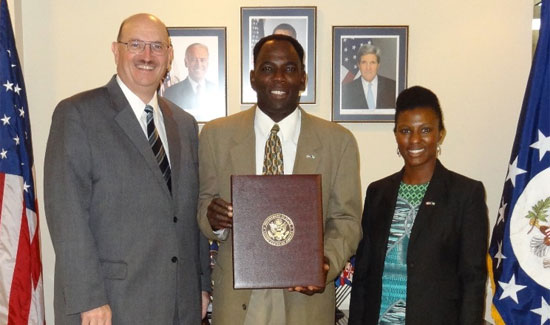 On Friday, February 21, Mr. Dudley Seide, Director of Reach-Out Ministries, a non-profit organization on Grand Bahama paid a courtesy call on U.S. Chargé d'Affaires John Dinkelman at the U.S. Embassy to discuss his participation in the U.S. Department of State sponsored International Visitor Leadership Program, "Caribbean Basin Security Initiative – Engaging Underserved and At-Risk Youth."  The Caribbean Basin Security Initiative is a partnership between the United States, CARICOM member nations and the Dominican Republic to work together to combat the drug trade and other transnational crimes that threaten regional security.
During the three-week exchange, Mr. Seide along with representatives from Guyana, Suriname, and Trinidad and Tobago visited four U.S. cities: Washington, D.C., Salt Lake City, Utah, Des Moines Iowa and New Orleans, Louisiana.
During the meeting with Chargé Dinkelman, Mr. Seide highlighted some of the areas of focus during the professional exchange which included examining primary prevention programs for at-risk youth and efforts of schools, community-based organizations and faith-based groups to intervene before early problem behaviors turn into gang involvement. They also engaged their American counterparts on addressing gang activity through inter-agency collaboration and partnership, youth engagement and violence prevention and examined re-entry programs for gang members recently released from prison.
The International Visitor program is a prestigious worldwide program which takes professionals in all fields to the U.S. each year to network with counterparts involved in the same type of work and to learn more about the United States and its policies.  All associated costs for participation were covered by the U.S. Department of State.
United States Embassy, Nassau
Caption: Dudley Seide pays a courtesy call on U.S. Chargé d'Affaires John Dinkelman and the Embassy's Public Affairs Officer Neda Brown.

community, society, youth