U.S. Coast Guard and RBDF Team Up to Inspire Woodcock Primary Students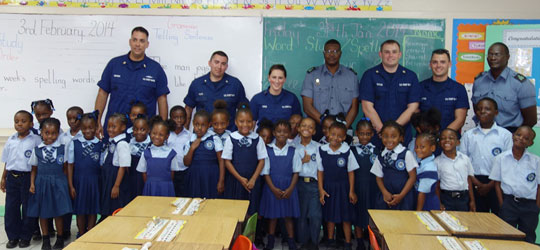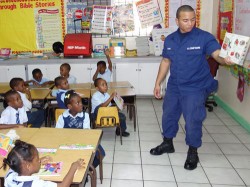 On Monday, February 3, the United States Embassy's Coast Guard Liaison Office arranged a special treat for the entire student body at Woodcock Primary School with a visit by fifteen crew members of the United States Coast Guard Cutter VIGOROUS and a group of Royal Bahamas Defence Force marines.

The excited students got an opportunity to interact with the law enforcement officers, to learn about the role of the U.S. Coast Guard and the RBDF and the vibrant partnership between the two law enforcement agencies and their shared commitment in areas including search and rescue and border protection.



The students also learned life lessons and the importance of discipline, respect for others and were encouraged to develop their leadership skills and work towards becoming productive citizens in their communities.  The Coast Guard and RBDF marines also used the opportunity to promote proper boating and water safety and gave the students an opportunity to participate in interactive demonstrations.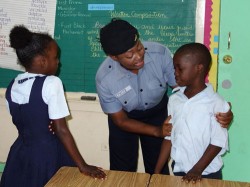 While in The Bahamas, the U.S. Coast Guard Cutter VIGOROUS will promote international relations with its law enforcement counterparts.  The VIGOROUS is a multi-mission vessel with a homeport in Center Cape May, New Jersey and its missions include search and rescue, enforcement of laws and treaties, maritime defense and protection of the marine environment.  The Commanding Officer is CDR Terry Johns, a former U.S. Coast Guard Liaison Officer at the United States Embassy in Nassau.
United States Embassy, Nassau
Captions:
 
Top:  U.S. Coast Guard and RBDF volunteers with grade 1 students.
Right: A U.S. Coast Guard officer reads to a group of first graders at Woodcock Primary School.
 
In a row:
#1: U.S. Coast Guard and RBDF volunteers interact with an excited group of students and answer questions about their careers as law enforcement officers.
#2: Principal at Woodcock Primary School, Mrs. Willamae Bridgewater with U.S. Coast Guard and RBDF volunteers.
 
#3: U.S. Coast Guard and RBDF officers discuss their partnership in maritime security and search and rescue operations with students.
Bottom Left:  This RBDF marine engages fifth graders during an interactive presentation on water and boating safety.

educational, students