Christie's Rejection of 'No' Vote Signals Shift to Dictatorship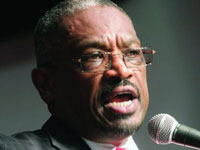 Opposition Leader Dr Hubert Minnis yesterday said the government should call a general election if it planned to go against the January 2013 referendum on web shops.
Dr Minnis charged that any decision to revert from the referendum would signal a shift from democracy to dictatorship, hitting out at recent statements by several cabinet ministers that the legalization of number houses should be reconsidered.
He maintained that the official position of the Free National Movement remained unchanged despite the personal views expressed by its chairman Darron Cash.
Speaking outside of the House of Assembly, Dr Minnis said: "The people spoke, and we're (FNM) on the side of the people. You (government) can not have a referendum and then ignore what the people say, because what does that say for future referendums? Once the people have spoken, then we follow what the people have said."
Click here to read the complete article at tribune242.com

corruption, crime, gambling, PLP, voting