Domestic Travel to be Exempt From VAT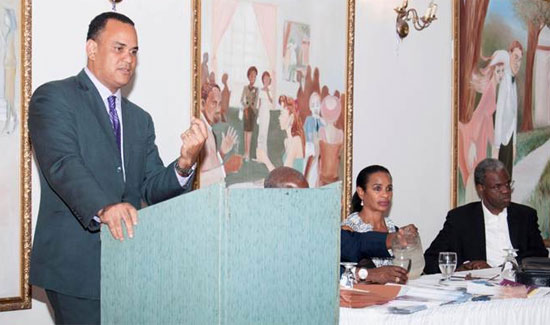 Value Added Tax (VAT) will not be charged on any form of domestic travel, State Finance Minister Michael Halkitis told residents of Killarney March 3.
Responding to questions during a Progressive Liberal Party branch association meeting at Casuarinas Hotel, Halkitis confirmed that travel by air, land and sea between islands will be totally exempt when the new tax regime comes into effect.
"The government has considered the domestic tourism market and understands how Bahamians love travelling to family islands," he said.
Halkitis also said that today, as opponents of VAT continue to state that "everything will go up 15%", he can only assume this is deliberate misinformation. "The government has stated repeatedly that it is still in the listening and legislative drafting stage and even if the rate of taxation settles at the initially proposed 15%, entire categories of goods and services will be exempt. Customs duties will also decline accordingly, meaning the increase in cost of living would not approach anything close to 15% and is more likely to be in the range of 4-5%," he added.
"Personal care services, religious services and government services are all VAT exempt," he said. "I encourage persons to review the facts, and not be misled, by visiting bahamas.gov.bs or VAT Bahamas on Facebook (www.facebook/vatbah242).
When asked why VAT was selected ahead of other revenue boosting alternatives, the minister said that recent studies have shown that VAT was the second most favourable tax for supporting economic growth, trumped only by Real Property Tax.  He pointed out that more than 140 out of 193 United Nations member countries have implemented VAT since its inception in 1954.
Over the weekend, Halkitis told hundreds of participants at the Bahamas Faith Ministries' Business and Finance Seminar that while constructive suggestions continue to be welcome, any viable alternative to VAT would have to be both practical and capable of replacing the revenue lost from the impending reduction of customs duties without overburdening the middle class. He said the government will continue to educate the public on VAT.
For more information on the VAT implementation, please call the Ministry of Finance VAT hotline between 9 am and 5 pm, Monday-Friday at 225-7280.
Diane Phillips and Associates
Caption: FRIENDLY SKIES AND SEAS — Value Added Tax (VAT) will not be charged on airline services within The Bahamas, State Minister for Finance Michael Halkitis told Killarney constituents at the Progressive Liberal Party's branch association meeting on March 3. (Photo by Derek W. Smith Jr., DPA)

business, financial, tax, VAT