Long Island Wins 22nd Annual Young Chef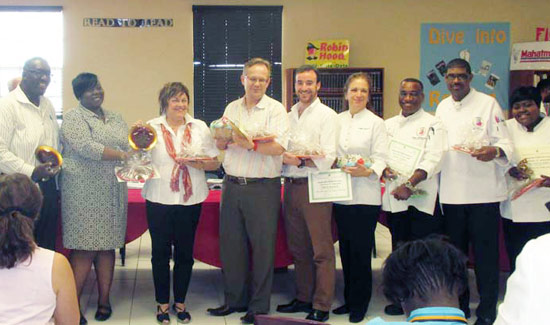 Shondria Gibson of North Long Island High was crowned winner of the  22nd Annual Senior Young Chef Contest, just after Selva Hudson of N.G.M Major High School, Long Island, was announced the winner of  the Junior Championships.
The Annual Young Chef Contests are sponsored by Mahatma Rice and Robin Hood Flour, both distributed in the Bahamas by Asa H. Pritchard.
Long Island students have provided previous winners in the Young Chef Contest in 1995 Claudette Cartwright, 1996 and 1997 Rhonda Major, 1998 Denece Adderley, and 2013 Cordell Wells.
Keith Parker, President of P.S. Advertising and Public Relations, organizes the competition each year, in co-operation with Sharon Ferguson, Senior Education Officer of Family and Consumer Science Education, Ministry of Education.
Overall Shondria earned a total of 455 points for her Mahatma Rice Dish "Fever Grass Seafood Rice" and 449 points for her Robin Hood Flour Dish "Bean Sweet Potato Delight". Shondria also won 'Best Mahatma Rice' and 'Best Robin Hood Flour'.
Placing second overall was Rackell Charlton of Jack Hayward High, Grand Bahama, with 44.5 points, for her Mahatma Dish "Jardinière Peas and Rice Masala" and her Robin Hood Flour Dish "Seafood Spinach Roulade".
Third place went to Marquis Darling of Preston Albury High, Eleuthera, with 440 points for her Mahatma Rice Dish "Lobster and coots Rice Balls" and 431 Robin Hood Flour Dish "Cabbaged JUJU spice cake" .
Catarina Chemaly of St. Andrews School, Nassau was fourth with a total of 791 points for her "Island Crawfish Stuffed Grape Vine Leaves with Cucumber Yogurt Dipping Sauce" and "Bahamian Cupcake Trio".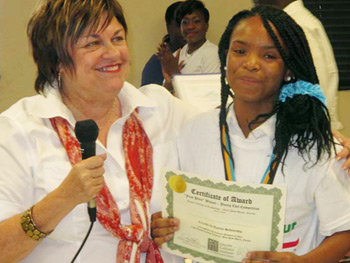 Judges for the senior championship were Edwin Johnson, Gilgan Holdings, Eldred Saunders, CHMI. Chef Carla Barr, Chef Phillip Ingraham, and Debbie Wheeler, Manager of Test Kitchens for Riviana Foods (Mahatma Rice).
Johnson and Whales also awarded the top three winners with all expense paid scholarships to Johnson and Whales Culinary Summer Champ.
The National Young Senior Chef winners received cash prizes of $1,500 (1st), $750 (2nd), $300 (3rd) and $200 (4th) from Mahatma Rice and Robin Hood Flour. Additional scholarships and prizes were awarded to the top four winners; Lincoln College of Technology awarded these four students respectively with $10,000 and $5,000 scholarships and two knife sets, worth over $500 each.
In addition to providing almost $4,000 in prizes each year, the sponsors also provide transportation to Nassau for each contestant with his or her teacher/coach; and cash stipends for Teachers and contestants to assist with the purchase of supplies.
Keith Parker, founder of the Young Chef Contest noted "This was a remarkable year, with all the top places going to Family Island students, 1st place Shondria Gibson of Long Island, 2nd place Rackell Charlton of Grand Bahama, and in 3rd place Marquis Darling of Eleuthera".
P.S News features
Photos by Keith Parker (P.S News features)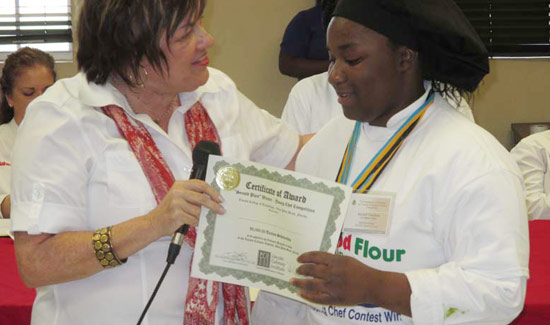 competition, educational