Sir Durward Knowles Launches Book 'Captain Of Industry'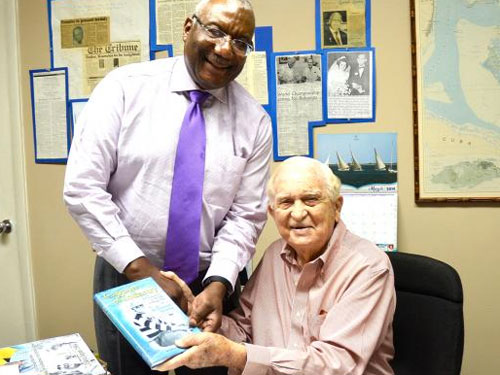 Mortimer, of Campbell's Shipping, who has succeeded Sir Durward as grand marshall of the popular Sir Durward Knowles Festival of Lights Christmas Boat Parade.
The long-awaited book charting the later years of Sir Durward Knowles' fascinating life, 'Captain of Industry' has at last reached the bookstores. A fascinating sequel to his first book 'Driven by the Stars', his own voice speaks to us from every page, as we follow him through all the life-changing experiences, joys and sorrows that have formed him into the man he is today.
Sir Durward is an undoubted Bahamian icon, one respected and admired by people from all walks of life, not just for the famous Olympic gold medal win, but for his unstinting support of those less fortunate in our society.
Over his many years, with a life covering almost a century, he has been at the forefront of several of our most important community endeavors. If you ask him what he is most proud of, he will always list One Bahamas and the Bahamas Association for the Physically Disabled as being closest to his heart. With the notable exception, of course of his wife, Lady Holly and his three children!
The book chronicles these and his involvement with the Rotary clubs of The Bahamas; his relationships with many major players in The Bahamas – past and present and his business adventures throughout the years. Through these pages, we come to realize that he is indeed, in the words of a long-time friend, "A special, distinguished national hero".
The book is a must-read for anyone who either wants to understand both the man and the myths, or has an interest in the history of his times. The book, which is full of color and black and white photos, is for sale at $25 for the paperback version and $30 for the hard cover version. Sir Durward intends to donate the total profit from sales of the book to charity.
For anyone wishing to have a signed copy, Sir Durward is holding a book signing at Montagu Gardens, on East Bay Street, Saturday, March 29 from 10 a.m. to 1 p.m. and at Logos Bookstore in Harbour Bay on Saturday, April 5 from 11 a.m. to 1 p.m.
Caption: Sir Durward Knowles (right) presents a signed copy of his latest book to Lowell J.
NOTE: Sir Durward Knowles was photographed by Bahamas portrait photographer Duke of Nassau for The Bahamian Project in its first year… the project is now in its second year.

book launch, celebrities