BTVI Students Receive International Certification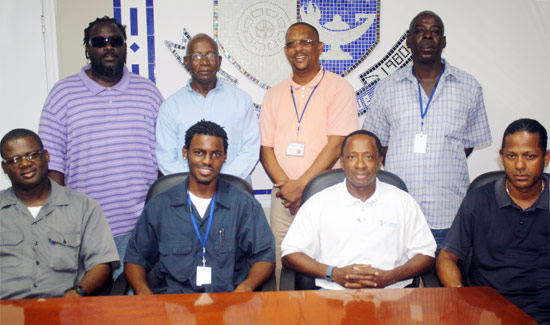 Five students of The Bahamas Technical and Vocational Institute (BTVI) now have international certification in Heating Ventilation and Air Conditioning (HVAC).
Three of the students received universal certification while the other two received core and levels 1 and 3 certifications.
The certification used for local technicians is based on section 608 of the United States Environmental Protection Agency's Clean Air Act, which enforces activities that protect the ozone layer as they apply to air conditioning systems and stationary refrigeration.  Under the Montreal Protocol on Substances that Deplete the Ozone Layer, all technicians must be certified.
The six-week course, which ended with a final exam, was taught by one of BTVI's HVAC instructors, William (Bill) Sturrup.  He is also president of the Refrigeration Service Engineers Society (RSES) which is responsible for training industry technicians and regulators.
HVAC student Nyshieko Williams said he learned many skills during the course including wiring, the procedure for connecting a compressor and he became familiar with the various tools used in the field.  Questioned as to the most important skill he gained, Mr. Williams said,   "I learned how to recover refrigerants safely without venting anything into the atmosphere."
Meanwhile, Construction Technology student, Kenneth Forbes, who is also Operations Officer of the Royal Bahamas Defence Force patrol vessel, HMBS Nassau, noted that as someone who works in administration, he developed an appreciation for the technical side of the field.
"As an administrator, I deal with problem solving, but from the technical side, the course caused me to deal with trouble shooting," said the Defence Force Officer.
"It helps me with my present job. I can transfer the skills into technical leadership to augment my administrative skills.  HVAC is interesting and Mr. Sturrup is a great teacher. He makes you want to learn more.  I never saw myself as a technician. You always feel capable, but the course humbled me," admitted Mr. Forbes.
For Wayne Farquharson, he encountered a few challenges including the amount of information given; however, he summed it up as an "in-depth course" which gave him the foundation of the various pressure systems.
On the other hand, Peter Taylor who has been in the electrical field for 20 years has a new outlook on HVAC.  "HVAC is quite different from electrical and it's hard to teach old dogs new tricks. However, I was learning something totally new and I had the best instructor," he said.
Mr. Sturrup expressed how "exciting" it was teaching the course and how pleased he was with results of the international certification.  "I worked with a bunch of intelligent men. I learned from them as much as they learned from me," he stressed.
Furthermore, BTVI's Dean of Construction Trades, Alexander Darville pointed out that the students' international certification is in keeping with BTVI's mission: 'To provide learning opportunities that enable individuals to be globally competitive and economically independent.'
"Such certifications are happening across the different disciplines and this is just the latest.  They now know what is demanded internationally and hopefully they'll be ambassadors for new refrigerants," he stated.
The Bahamas Technical and Vocational Institute (BTVI)
INTERNATIONAL CERTIFICATION – Standing from left to right are Peter Taylor, HVAC; William Sturrup, HVAC instructor; Alexander Darville, Dean of Construction Trades and Kenneth Forbes, Construction Technology student. Seated are Garth Johnson, Construction Technology student along with HVAC students, Nyshieko Williams, Wayne Farquharson and Ron Jeffrey.

education, jobs, students