Family Island Students Win Young Chef Competition 
Aspiring Chef Selva Hudson of N.G.M Major High School  emerged winner of the National All-Island Junior Young Chef competition sponsored by Mahatma Rice and Robin Hood Flour.
In winning the 2014 overall junior championship Selva scored 357 points for the Best Robin Hood Flour dish," Finger Licking Turbot & Vegetable Pattie" and 358 points for the Best Mahatma Rice with his "Yummy Tropical fruits Upside down Rice cake".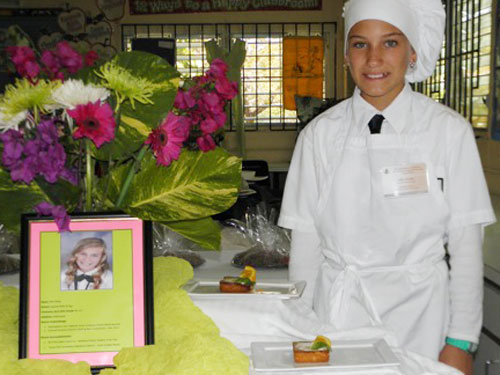 Placing second overall was Allie Pinder, 7th grader at Spanish Wells All Age,  Eleuthera, with 322 points for "Pumpkin Rice with Ginger Conch" and 328 points  for her "Guava Bars with Orange Whipped Cream".
Third place went to Leandria Albury of Inagua All Age School,  with 333points for her "Lobster Lasagna Cupcakes"  and 311 points for her "Tropical Rice Pudding Smoothie".
Maygan St.Claude of S.C.Bootle, Abaco placed forth scoring 327 for her Mahatma Rice Dish "Abaco Coco Loco Rice" and 308 for her Robin Hood Flour Dish "Mom and Pap Muffin".
Judges at the Junior Contest were: – Seanette Cooper, Sandals Hotel, Devain  Maycock College of The Bahamas, Keisha Bonimy D.W. Davis School, Debbie Wheeler, Mahatma Rice.
Chef Keisha Bonimy noted "The students have incredible skills and are surely going to excel with the skills they acquired thus far".
The sponsors' products, Mahatma Rice and Robin Hood Flour, are distributed in the Bahamas by Asa H. Pritchard Ltd.  In addition to providing almost $4,000 in prizes each year for the Junior and Senior. The sponsors also provide transportation to Nassau for each contestant with his or her teacher/coach; and cash stipends for Teachers and contestants to assist with the purchase of supplies.
Keith Parker, President of P.S. Advertising and Public Relations, founded the Young Chef contest in 1992 and continues to organize the competition each year, in co-operation with Sharon Ferguson, of the Ministry of Education.
P.S News Features
Captions:
Top: 2014 Jr. Young Chef Winner –Chef Selva Hudson won the 2014 Junior Champion Young Chef Contest sponsored by Mahatma Rice and Robin Hood Flour. Selva impressed the judges with his "Finger Licking Turbot & Vegetable Pattie" and tasty "Yummy Tropical fruits Upside down Rice cake". Selva is pictured as he begins preparing his winning dishes. Photo by Keith Parker (P.S News features)
Right: Young Spanish Wells Student places 2nd in Junior Young Chef Contest  Allie Pinder 7th grader at Spanish Wells All Age School placed second overall for her "Pumpkin Rice with Ginger Conch" and "Guava Bars with Orange Whipped Cream. Photo by Keith Parker (P.S News features)
Left: Inagua student completes Family Island 1, 2, 3 sweep in National Junior Young Chef Contest  Third place in the National Junior Young Chef Contest went to Leandria Albury, Inagua All Age School, with her "Lobster Lasagna Cupcakes" and "Tropical Rice Pudding Smoothie". Photo by Keith Parker (P.S News features)

competition, food, youth