Nassau 'Lights It Up Blue'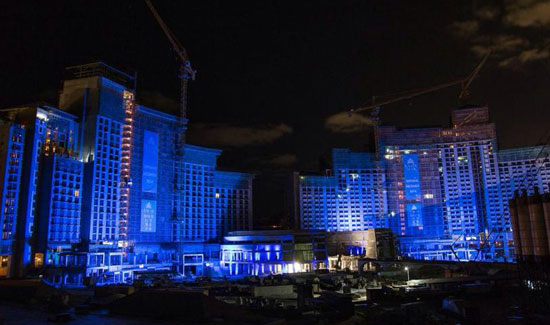 The city of Nassau turned blue on the evening of April 2 as International Autism Awareness month commenced.
"I am encouraging Bahamians to support the autism awareness initiative by wearing blue and using blue lights in their establishments throughout the month of April," said R.E.A.C.H. President Mario Carey.
Baha Mar was one of the first corporate citizens to exhibit their 'blue pride' as they lit up the Baha Mar Resort and Casino and the Hyatt at Baha Mar towers blue almost simultaneously with 'Light It Up Blue Ceremony' held in Rawson Square which attracted many dignitaries including His Excellency Sir Arthur Foulkes and Lady Foulkes, Prime Minister Perry Christie, Leader of the Opposition Dr. Hubert Minnis, other parliamentary members and numerous civic and corporate partners of R.E.A.C.H.
The autism awareness campaign in the Bahamas is spearheaded by R.E.A.C.H. is a voluntary support and advocacy group for parents, professionals and others who are concerned with Autism in the Bahamas.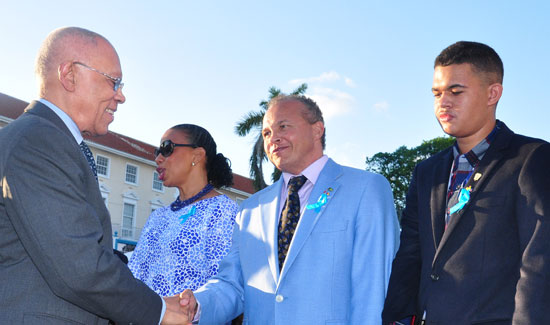 Diane Phillips and Associates
Captions: Baha Mar showed their support for autism awareness by lighting their properties blue on April 2. (Photo courtesy of Baha Mar)
Governor General Sir Arthur Foulkes greets president of R.E.A.C.H. Mario Carey (center), Kim Gibson (Co-Vice President, REACH) and Cole Carey (National Honor Student with Autism- son of Mario Carey) looking on at the Light It Up Blue Ceremony held in Rawson Square on April 2. (Photo by: Derek Smith, Jr)

business, charity, health