National Association Of The Bahamas In Florida Hosts Art Reception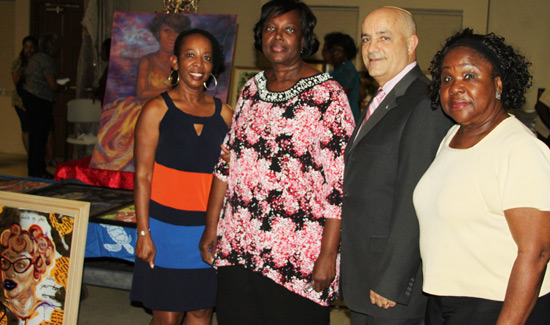 The National Association of The Bahamas, Florida, recently hosted a successful Art Wine and Cheese Reception at the Ancient Spanish Monastery, 16711 W. Dixie Highway, North Miami Beach.
The reception featured a number of local artists, some of Bahamian descent and drew a good crowd of persons from the Bahamian South Florida Community, including Consul General of The Bahamas to Florida, Ricardo Treco and Mrs. Treco.
Pictured from left to right: Rubyann Bradshaw, Vice President, NAB; Rosamon Gomez, President, NAB; Consul General, Treco and Dr. Janie Greenleaf, President, Ancient Spanish Monastery Foundation. More information on the National Association of the Bahamas can be found at their website, www.nabmiami.org
The National Association of The Bahamas is in its 19th year as a Bahamian organization for Bahamians and those of Bahamian descent in The South Florida area.
The goals of the organization include: Promoting opportunities for the interaction and networking of members; Fostering growth and prosperity of businesses and individuals; Increasing employment opportunities; Enhancing the economic stability of the Bahamian community and encouraging and stimulating private enterprise.
More information on the National Association of the Bahamas can be found at their website, www.nabmiami.org

arts, culture, florida