Atlantis Celebrates 20 Years In The Bahamas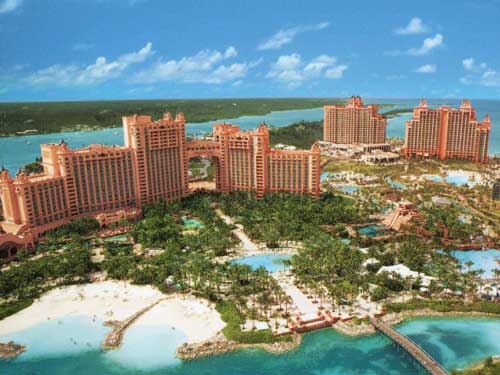 Atlantis is celebrating the iconic resort's 20th anniversary. In May 1994, the signing of a heads of agreement for the sale of Resorts International's Paradise Island hotel to Sun International signaled the renaissance of the Bahamian tourism product. Inking the deal 20 years ago this month, Sol Kerzner, a quintessential visionary entrepreneur, rolled out a development plan to create a never-before-imagined themed destination that would forever change the face of Paradise Island and The Bahamas. The destination would be named Atlantis. The resort, owned by Brookfield, will honor this remarkable 20th anniversary occasion with a year-long celebration.
For two decades, Atlantis has transitioned Paradise Island and The Bahamas to an international travel destination while being a major contributor to the betterment of Bahamian life and the local community. Since opening in 1994, over 50,000 Bahamians have been directly or indirectly employed by Atlantis, each contributing to the success of hosting over 15 million visitors to Atlantis. The resort is truly an experience like no other, creating memories for a lifetime – for our guests and employees alike.
During the celebratory year, Atlantis will be hosting numerous employee, community and guest festivities to mark this special anniversary, including additional employee benefits, local community beautification projects, unique dining experiences, special offers and more. Atlantis recognizes its 20 years of achievements, including donating over $27 million to the local community, contributing significantly to The Bahamas' gross domestic product, receiving over 200 prestigious travel awards, being featured on over 5,000 television broadcast airings and being the backdrop for a vast amount of print, online and film productions to bring awareness to the destination and into millions of households around the globe.
For 20 years, Atlantis has continued to revolutionize the family destination experience to ensure there is always something new to see, do and eat. As Atlantis and Brookfield look to the future and toward the next 20 years, they will continue the resort's vision and commitment to amaze their guests and the tourism community with new attractions, experiences and culinary options.

resorts