Baha Mar Still On Track For December Opening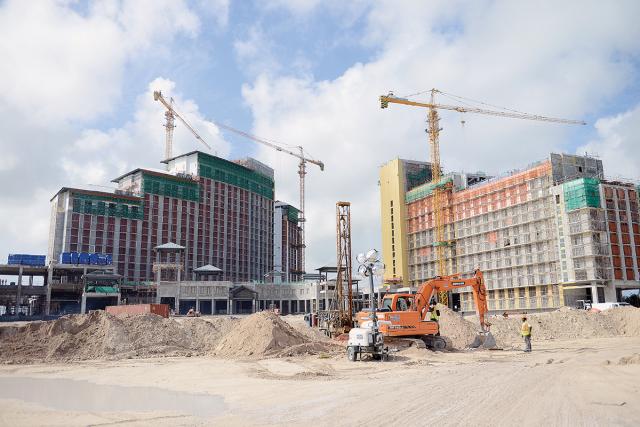 Amid concerns surrounding Morgans Hotel Group Management's move to terminate its hotel management agreement with Baha Mar, resort officials yesterday shot down speculation that the opening of the multibillion-dollar facility would be delayed.
Morgans Hotel Group Management is one of three hotel management companies with which Baha Mar signed on in 2011 to manage its properties.
Asked if Baha Mar is looking for another group to replace Morgans, Baha Mar Senior Vice President of Administration and External Relations Robert
"Sandy" Sands said, "Morgans is still a part of the Baha Mar brand. There has been no change in that position to date."
Sands spoke to reporters following Baha Mar's Leadership Development Institute (LDI) graduation program yesterday at the Melia Nassau Beach Resort.
Sands' assurances come after Morgans Hotel Group Management notified Baha Mar that its 20-year hotel management agreement (HMA) with Baha Mar "would terminate effective 30 days later", according to court documents filed in New York.
The 30-day deadline ended several days ago. The court action was allegedly the result of Baha Mar's failure to produce a "non-disturbance agreement", which would have protected Morgans Hotel Group Management from interference in the hotel's operations in the case of a default or foreclosure under the Baha Mar loan.
Sands confirmed that the matter is still in court but expressed optimism about Baha Mar's future. The court battle has raised concerns about the resort's ability to meet its target opening date.
But Sands said he doesn't expect that matter to negatively impact Baha Mar's operations "at all".
"We will open on December 8, 2014 and we are progressing very quickly to ensure that that happens," he said.
Baha Mar CEO and Chairman Sarkis Izmirlian and Baha Mar President Tom Dunlap also assured members of the public and future staff members of the resort's December opening during the LDI graduation ceremony. A total of 150 people graduated and are expected to be offered jobs at the resort.
Sands said the $3.5 billion Baha Mar project is about 80 percent complete.
He added that about 4,500 people are working to complete construction.
"We're doing finishing touches on the property, a lot of civil works. We are working from the inside of the hotel out," he said.
"…It's just one big team effort working to meet this ultimate goal for December."
Sands said Baha Mar will officially begin booking rooms in just over a month.
"We start our bookings on July 1," he said. "We've been taking group bookings…we are very encouraged by group bookings. But we go live on July 1 for our leisure bookings, as we launch our new website and our booking engine for that to happen as well."
As it relates to airlift, Sands said the resort is comfortable with that aspect.
"We are satisfied that a successful amount of implemented airlift has already been put in place for December of this year," he said
"The team [including members] of the Ministry of Tourism, the promotion board, the private sector hotels, along with ourselves have negotiated excellent arrangements with carriers for increased connectivity, not only for increased capacity, but increased frequency and some new airlift out of different gateways.
"We are very encouraged and satisfied that airlift will be in place to satisfy the demand of Baha Mar when we open."
The resort plans to hire 4,000 people this year.
Krystel Rolle-Brown
The Nassau Guardian

construction, resorts, tourism