Family Island Student Receives Financial Aid From Lowe's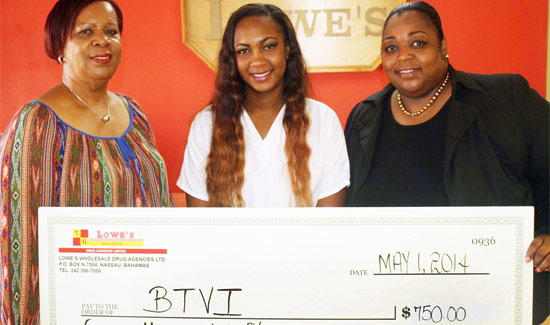 A tearful Vontianise Deal recently accepted much-needed financial aid from Lowe's Wholesale Drug Agencies Ltd to assist with her study of cosmetology at The Bahamas Technical and Vocational Institute (BTVI).
"I feel blessed. I am very excited and grateful to have this opportunity. It's amazing help. I felt as though I was held back because of finances. Being a Family Island student, it's kind of rough getting all of the things I need," said the native of Hatchet Bay, Eleuthera.
The cheque presentation of $750 was made by Lowe's Brands Manager, Gloria Brown, who is also a member of BTVI's Beauty Trades' Program Advisory Committee.  On hand to receive it, along with Vontianise was BTVI's Fund Development Assistant, Ushieka King.
The 20-year-old lauded Lowe's efforts, encouraging other businesses to become corporate sponsors.  "Some people have a lot of potential but can't show their full capabilities because they're stuck. They don't have the resources and that's the position I found myself in.  I tried really hard to get my cosmetology supplies for school, but sometimes I was late," said the first-year BTVI student.
Ms. Brown stated how important it is for her company to play a role in helping young people like Vontianise.
"We want to assist our young, upcoming entrepreneurs as much as possible, particularly those who need financial help.  We want to be a part of them realizing their dreams," she said.
Additionally, one of BTVI's requirements for choosing the recipient was that the student made a grade point average (GPA) of at least 2.75 for the fall semester; however Vontianise landed a 3.59 – far surpassing the minimum requirement.
"I am passionate about what I do.  I was initially a business major at another institution, but wasn't passionate about it so I applied to BTVI because I always wanted to do hair and nails. I love it. I'm enjoying myself and learning a lot," said the 2011 graduate of Central Eleuthera High.
Meanwhile, Head of BTVI's Beauty Trades department, Dr. Donnalee Minnis commended Lowe's for its generous contribution.
"We can see their willingness to invest and when you invest in young people, particularly a female, you are not only helping her to help herself, but eventually her family; hence, the student becomes employable and it eases the burden on the wider community.  It's a rippling effect," said Dr. Minnis.
"Lowe's has partnered with BTVI for a few years and they're now giving another student the opportunity to harness their talent.  They should be commended because it also shows the student that people still care," she said.
The Bahamas Technical and Vocational Institute (BTVI)
Caption: CHEQUE PRESENTATION – Lowe's Wholesale Drug Agencies Ltd Brands Manager, Gloria Brown, presented BTVI cosmetology student, Vontianise Deal with a cheque to further her studies.

charity, school, student