Adventures of Bahamians in France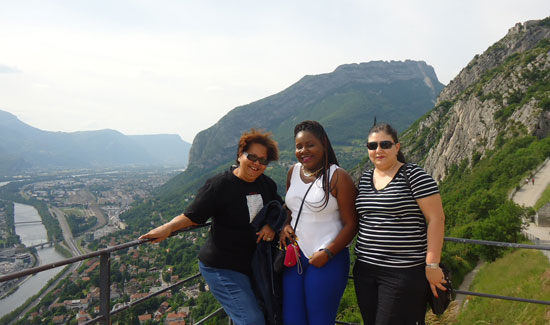 The Alliance Française des Bahamas embarked upon an adventure of taking a small group of Bahamians to France for French language and culture immersion. The first group comprised of Anthony and Larissa Darville, Rose Josue and Matthew William, spent 2 busy weeks filled with cultural excursions, French classes and pratical applications of French in the Streets with members of the general public. One exercise was to introduce themselves to strangers in the street and conduct an interview to see how many persons had heard of The Bahamas. The result: sports….paradis fiscal and beaches…
Participants had an opportunity to shop at the local markets and taste cheeses made with milk from goats, sheep and cows in different stages of maturity.
On June 6th, the group was received at the Mairie (City Hall) by Madame Lobna Rannou,representative of the city for International Relations.
Courtesies were exchanged and Mme Watkins-Jan, Director of the Alliance Française des Bahamas presented Mme Rannou
with a book about The Bahamas published by Jones publications for the 40th Anniversary of Independence.
Madame Rannou, assisted by Sabrina Menu, presented the Bahamian group with a welcome package from the city. Also present were members of the local Police Department and the local press.
A small reception followed allowing for exchange between the French and Bahamian délégations.
Visits included the Fort de la Bastille, the distillery of the Chartreuse liqueur in Voiron, the Museum of natural history in Grenoble and a cooking class.
The "point fort" of these 2 weeks was of course the wine tasting excursion/class on the wines of the Savoie region and the large variety of restaurants from which to choose in Frace. They became "experts" in Savoie wines – mostly white, but a few exceptional reds – after tasting around 20 different wines during the course of the day.
Matthew, Anthony and Larissa left on Saturday, June 14th and were replaced by Alexander Albury, Jessica Johnson and Lateisha Lewis who embark on two weeks of language and culture which AF Bahamas hopes will teach them how to live and adapt to a different culture.
Alliance Francaise des Bahamas