Smart Kids Bahamas Honors Exceptional Educator
Smart Kids Bahamas pledges to make Nominations Annual Campaign to recognize top educators in the country.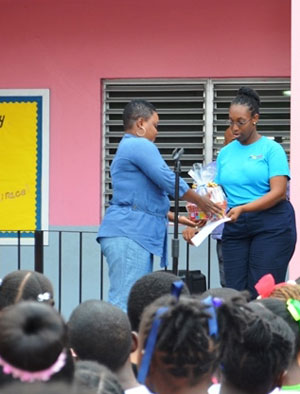 Nassau, Bahamas – Smart Kids Bahamas awards Teacher Nominations winner Ms. Elizabeth Mingo of St. Cecelia's School a $150 gift certificate and other prizes at the school's morning assembly.
During the month of May, Smart Kids Bahamas asked parents to submit nominations detailing why their child's teacher deserved to win the $150 gift certificate, with a chance to win a $25 gift certificate for themselves from Smart Kids. Smart Kids was pleased with the amount of nominations received from parents all over New Providence, who took time to nominate their child's teacher via email or on the Smart Kids Bahamas Facebook page.
After receiving the nominations, the teacher, parent, and school names were omitted to make the selection process anonymous. The nominations were then reviewed by a private panel and the winner was selected to avoid bias of any kind.
In the winning nomination, Ms. Mingo was detailed as a teacher who "personifies concern, talent, creativity, and motivation. Her awareness of each student as an individual is vividly seen in the adaptations made to accommodate their differences and needs. Like a garden, only a gardener by heart can truly have a successful bunch of flowers that blossom if the right conditions are provided with the optimum nurturing and consistent care. Ms. Mingo, a first grade teacher, is that gardener".
The winning nominator, Ms. Phyllis Johnson was pleasantly surprised to hear that her nomination had been selected as the winner. "To be honest, it was a last minute decision to submit", stated Ms. Johnson, "but I am happy that I did. Ms. Mingo seems to be driven by parental partnership, and this strategy assists her in ensuring that students' individual needs are met".
"We are excited to offer this prize to Ms. Mingo, and to congratulate her on her achievements as an excellent educator" said Miss Kendelynn Pennerman, Store and Marketing Assistant at Smart Kids Bahamas. "We strive to provide quality educational materials for developing minds, and to offer support for our teachers as best we can."
Due to the positive response, Smart Kids Bahamas plans to make the teacher nominations an annual event held during May, and hopes to partner with other educational bodies to recognize teachers that go above and beyond on a daily basis.
Located at #110 Collins Avenue, Smart Kids Bahamas has a wide selection of educational toys and learning material for teachers and parents. Check them out on Facebook at Smart Kids Bahamas or call 356-7177.
Captions:
Top – Ms. Glass, Principal at St. Cecelia's speaks to students at assembly
Side – Ms. E. Mingo received prize from Ms. K Pennerman at assembly held at St. Cecelia's School
Bottom – Ms. E Mingo, Teacher at St. Cecelia's School, Ms. K. Pennerman, Store and Marketing Assistant at Smart Kids Bahamas, Ms. G. Hanna, Smart Kids Associate