Bahamian Chef Tim Tibbitts Heading To New York City To Cook at James Beard House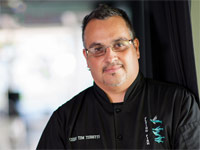 Freeport, Grand Bahama – Bahamian Chef Tim Tibbitts of Flying Fish in Freeport has been asked to join celebrity chef Anthony Lamas for Chef Lamas' sustainable seafood event at the legendary James Beard House in New York City.  The event will be held on July 10th, Bahamian Independence Day.
"I am humbled and incredibly proud of this invitation, and even more proud to bring some good publicity to the island of Grand Bahama," said Chef Tim, Owner and chef at Flying Fish.
Tibbitts has had quite a year this year being named one of the top 25 chefs of the Caribbean by Caribbean Journal magazine earlier this year and just this week Flying Fish became the first restaurant in Grand Bahama's history to earn a 4 Diamond Rating from AAA.
"It is such an amazing opportunity to cook at James Beard House and just as amazing to cook with Chef Lamas," said Tibbitts. "for Anthony to offer the invitation was beyond generous.  We will have a really fun time and I will proudly wear my Bahamian flag jacket in the house."
Tibbitts is happy to see the recognition from AAA as well.  More than 30,000 restaurants are rated by AAA annually in North America and the Caribbean and less than 2.5% earn the 4 Diamond rating.
"The AAA rating is a testament to our whole team and how hard they work for excellence every day.  There are dozens of Michelin starred properties in the 4 Diamond rating group.  We are humbled to be included with them."
There are currently less than 30 restaurants in the entire Caribbean region with a 4 Diamond rating from AAA.

restaurants