Chikungunya Virus Spreading Rapidly Through Caribbean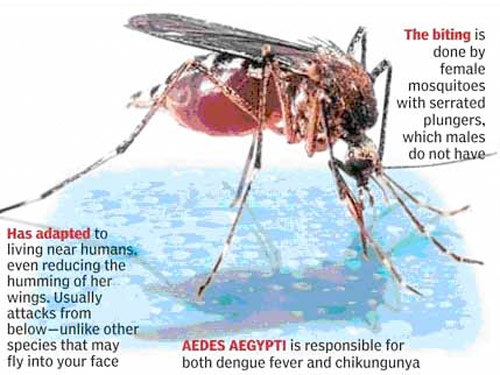 With the "rapid spread" of the chikungunya virus in some parts of the Caribbean, Minister of the Environment and Housing Kenred Dorsett said public health officials have been ordered to increase their efforts to diminish the threat of a local outbreak.
According to a statement from Dorsett, the Department of Environmental Health Services (DEHS) has engaged in a "systematic monitoring" program and has been instructed to "ramp up" its fogging program across the country, following the confirmation of the first case of the chikungunya virus.
"The Department of Environmental Health Services is aware of this threat to the health of the population," Dorsett said.
"In January 2014, DEHS implemented a heightened monitoring program for the Aedes aegypti mosquito at all ports of entry in The Bahamas in response to the level of chikungunya virus transmission in Latin America and the Caribbean. This activity will continue."
The Aedes aegypti mosquito, which is found throughout The Bahamas, spreads the chikungunya virus.
The mosquito is known to transmit other diseases such as dengue fever, which affected more than 1,500 residents in 2011.
Since December 2013, the chikungunya virus has spread throughout the Caribbean.
The progression of the illness in the region is occurring at a rate of one country every seven to 14 days, according to Dorsett.
The Bahamas confirmed its first case on July 4.
In the Caribbean, there have been over 4,300 confirmed cases and over 250,000 suspected cases, according to the latest statistics from Pan American Health Organization (PAHO).
Symptoms include high fever and severe joint pains in the hands and feet, which can persist for several weeks.
Other symptoms include muscle pain, joint swelling and rash.
Chikungunya rarely results in death, however the Centers for Disease Control and Prevention said the symptoms can be severe and disabling.
At least 21 people have died as a result of the fever in the Caribbean, PAHO statistics show.
Dorsett said residents should ensure that their immediate environment is not a breeding ground for mosquitoes.
"The Ministry of the Environment and Housing and the DEHS will continue to work with the Ministry of Health to contain the disease and to ensure adequate and optimum treatment of those who may be infected," Dorsett added.
He said a public education campaign is already underway and will be stepped up immediately.
Krystel Rolle-Brown
The Nassau Guardian

caribbean, disease, health