Bahamas National Trust Officer Participates in U.S. State Department Exchange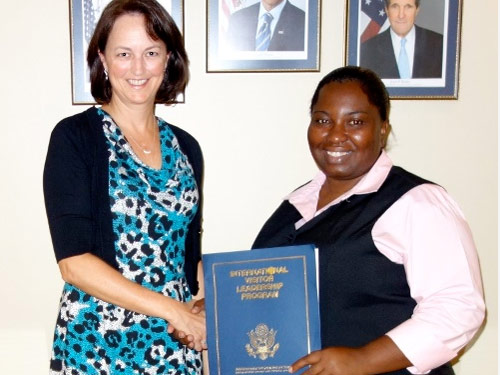 On August 22, Ms. Portia Sweeting, Director of Education at the Bahamas National Trust met with U.S. Chargé d'Affaires a.i. Lisa Johnson to discuss her recent participation in a U.S. State Department sponsored exchange in the United States focused on "Coastal and Marine Resources Management in the U.S." In her role at the Bahamas National Trust, Ms. Sweeting is responsible for all educational and outreach programs.  She also plays a significant part in promoting sustainable practices for The Bahamas' natural resources.
During the three-week professional exchange, Ms. Sweeting traveled to Washington, DC, Corpus Christi, Texas, San Diego, California and Key Largo, Florida. Ms. Sweeting and peers from throughout the region were given a unique opportunity to examine efforts by U.S. government officials, NGO's and environmental activists to address coastal and marine management issues, particularly marine debris and pollution. The program provided opportunities for the participants to interact and share best practices with American professionals who are engaged in developing public policy frameworks for coastal zone management and climate change adaptation. The group also shared institutional and technical strategies to integrate local level projects with regional and international marine protection and clean-up efforts. This latest exchange opportunity provided by the U.S. State Department though the Embassy's Public Affairs Section supports one of the Embassy's key priorities, to promote environmental preservation.
While discussing with Chargé Johnson how she plans to apply her experience to coastal and marine management initiatives in The Bahamas, Ms. Sweeting added that, "The experience exposed me to conservation and coastal management issues in the United States and I look forward to embracing the networking opportunities with representatives from the various organizations and foundations that I connected with during the program."
For more information on how you can support the efforts of The Bahamas National Trust, visit their website: www.bnt.bs/
United States Embassy, Nassau
Caption:
U.S. Chargé d'Affaires a.i. Lisa Johnson with Ms. Portia Sweeting during a courtesy call at the U.S. Embassy.