Kids Learn About Corals & Climate Change at BREEF San Salvador Sea Camp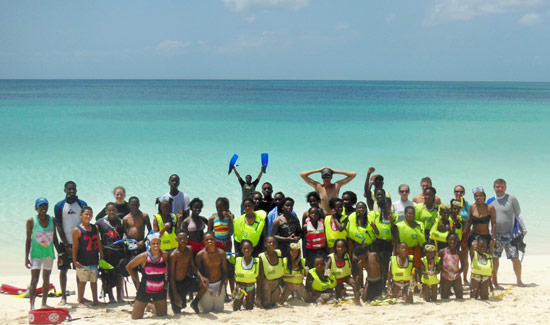 "Pants can help you float" – one of the safety tips Joshua Storr and thirty-nine other campers learned at BREEF's eighth annual "Sea Camp" at Gerace Research Center in San Salvador held from July 21-25.  During the week-long sea camp, children learned water safety skills and how climate change is affecting coral reefs and people in The Bahamas.
Campers eagerly participated in activities including snorkeling and free-diving, games, crafts, science experiments and a beach clean-up.  "The best thing about sea camp is learning how much CO2 we let out in our environment and how I can reduce it to help protect the coral reefs" stated sea camper Jamillah Rolle.
By the end of the camp, children also set personal goals to help slow down climate change. Daverelle Major pledged to "stop leaving on my TV when I am not watching it" and Shante Pratt wants to "grow gardens, plant vegetables, (and) ride my bike more instead of riding cars."
Three campers also completed their prerequisite water skills and are now eligible to be trained as certified scuba divers.  "We're always glad that the kids have a great time at sea camp each year, but we are also focused on the long-term benefits.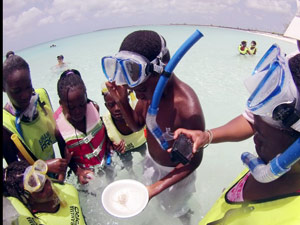 Not only will these young Bahamians be better informed about how to manage our marine resources, but they are gaining skills that can save their lives and help them to earn a living in the future," noted BREEF's Executive Director, Casuarina McKinney-Lambert. Former sea camper and camp counselor, Deontae Williams is a certified Rescue Diver employed by Seafari Bahamas.  He follows in the footsteps of former sea camper, David Romer, also employed at Seafari as a Dive Instructor.
Special thanks to our team of volunteers and sponsors, especially the U.S. Embassy Nassau, Gerace Research Center, Sandy Voegeli, Melanie Devore and the San Salvador Living Jewels Foundation.

animals, education, marine, ocean, sea, youth