Local Activist Reaffirms Commitment to Promote Human Rights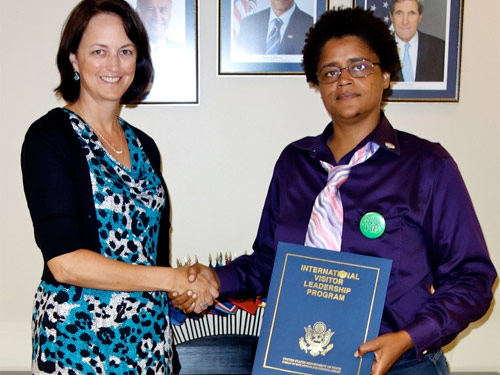 On August 22, Ms. Erin Greene, Director of Advocacy at SASH Bahamas, a local Non-Governmental Organization met with U.S. Chargé d'Affaires a.i. Lisa Johnson to discuss her recent participation in a U.S. State Department sponsored professional exchange "Human Rights for All."  The role of SASH Bahamas is to work with the lesbian, gay, bisexual and transgender communities and to support persons infected and affected by HIV/AIDS. Ms. Greene also serves as the regional chairperson of the Caribbean Association for Feminist Research & Action (CAFRA).
Ms. Greene was among a group of NGO and community leaders from Barbados, Belize, Guyana, Haiti, Jamaica, Trinidad & Tobago, and Suriname to participate in the three-week professional exchange.  The program took them to Washington, DC, Memphis, Tennessee Little Rock, Arkansas, Des Moines and Iowa City, Iowa and San Francisco, California.  The participants engaged American counterparts on values and principles that shape the United States' human rights policies.
Ms. Greene discussed with Chargé Johnson how she plans to apply her experience to human rights initiatives in The Bahamas, while noting some of her most memorable experiences, "The informational activities like Memphis Black Pride, the Little Rock Memorial and the Clinton Library tour affirmed for me the ways in which American and Caribbean stakeholders can work together to ensure human rights for all."
United States Embassy, Nassau
Caption: U.S. Chargé d'Affaires a.i. Lisa Johnson with Erin Greene during courtesy call at the U.S. Embassy.