US Embassy to Host Women's Leadership Conference
On September 10-12, 2014, the Public Affairs Section of the United States Embassy Nassau will host a three-day conference focused on "Achieving Social Equity: Empowering women and youth politically, socially, and economically," in Nassau.  Embassy Speaker, Dr. Avis Jones-DeWeever will engage the Bahamian community on issues facing women and youth in today's modern society.  Dr. Jones-DeWeever serves as president of a consulting firm based in Washington, DC that provides customized approaches to transforming innovative ideas into effective action.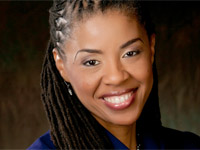 Dr. Jones-DeWeever has held positions in a variety of highly esteemed organizations and governmental institutions including the Governor's Office of Virginia, the Maryland State House of Representatives, the Congressional Black Caucus Foundation, the Joint Center for Political and Economic Studies and the Institute for Women's Policy Research.   Most recently she served as the Executive Director of the National Council of Negro Women where she led a new organizational push towards policy action and impact.
This is a request for your media representative/s to provide coverage of the following events:
·       Dr. Avis Jones-DeWeever will be the featured guest at a luncheon on Thursday, September 11 beginning at 12:00 noon at the Balmoral Club, Sandford Drive.  She will address the topic, "Bahamian Women Rising: Developing Effective Action."  U.S. Chargé d'Affaires a.i. Lisa Johnson, government representatives and women leaders from a cross-section of the community will attend.
·       Dr. Jones-DeWeever will be the featured speaker at an information session for young female student leaders at the Harry C. Moore Library, College of The Bahamas on Friday, September 12 beginning at 1:30 p.m.  Dr. Jones-DeWeever will address the topic, "Characteristics of an Exceptional Young Leader."