Andbank Enters Bahamian Luxury Mortgage Market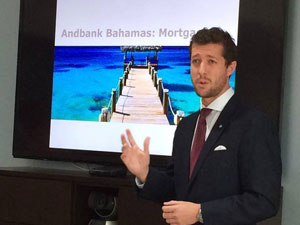 Andbank, the private bank with headquarters in Andorra, continues to expand its private banking product offering in The Bahamas. During a special event on Wednesday, September 17, at its offices at Montague, the boutique private bank, unveiled its latest product to a group of selected realtors.
"We have continuously demonstrated our commitment to The Bahamas, first by tripling our staff over the last few months and by now offering mortgage related services in the high end Bahamian property market. While the industry is changing at a fast pace, the needs of demanding individuals and families remain the same. Seamless and efficient wealth management services is the core of our business and now with a mortgage offering, clients who plan to purchase luxury property in The Bahamas will have an added value when they are banking with us." Juan Iglesias, CEO remarked.
Captions:
Top: Juan Iglesias, CEO of Andbank, introducing Andbank
 
Right: Werner Gruner, Director at Andbank, introducing the new mortgage product

bank, financial