BORCO Spreads Christmas Cheer in their Community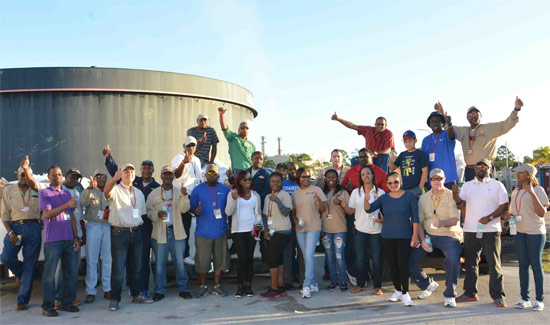 Freeport, Bahamas – Buckeye Bahamas (BORCO) helped spread a little Christmas cheer by ensuring families won't go hungry this holiday season.  Last weekend the BORCO family handed out 400 food parcels (including turkey, rice, grits, sugar and flour) to the Pinder's Point and Lewis Yard communities.
"This gift giving initiative continues to be an annual drive for BORCO/Buckeye," said Kim Pratt, Business Coordinator at Buckeye Bahamas.
"It is a joy for me to organize this event each year, on behalf of the company, and it pleases me that the spirit of giving is so prevalent with everyone who volunteers each year to go out in the community."
Employees from various departments at BORCO helped to distribute the goods in the communities, starting early Saturday morning.  According to Pratt, since BORCO began this annual gift-giving exercise more and more employees have volunteered, which is a great sign that the giving spirit is trickling down to all.
"Buckeye recognizes the importance of not only being good corporate citizens but by giving back to the community in which we live and work with everyday," said President of Buckeye International Pipelines and Terminals, Khalid Muslih.
"It is always wonderful when our company and staff join together to make the holidays a little brighter for others.  I am very pleased I could be here to join Kim and her team in this magnanimous effort."

About Borco Bahamas
Bahamas Oil Refining Company International Limited ("BORCO") is the largest storage terminal facility in the Caribbean, with the ability to store, blend, transship, and bunker fuel oil, crude oil and various petroleum products. BORCO's facilities are strategically positioned along the Northwest Providence Channel off the southern tip of Grand Bahama Island. This location is ideally suited for blending, transshipping and terminating operations for the Arabian Gulf, Northwest Europe and West Africa trade to the United States' Gulf coast and East coast, as well as for North America trade to Europe, Latin America and the Pacific.
Submitted by Barefoot Marketing
Top: Employees Getting Ready to Spread the Holiday Cheer
Bottom: BORCO Employees Loading the Trucks With Food Packages for Their Annual Holiday Giving Exercise
(Photos courtesy of Derek Carroll for Barefoot Marketing)