Grand Bahama Junkanoo Groups Get Financial Boost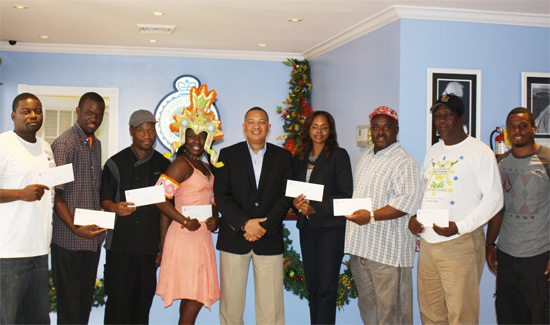 Some eight Grand Bahama based Junkanoo groups received a financial boost, as a result of an initiative spear headed by the Grand Bahama Port Authority, Limited (GBPA).
In an effort to contribute to an event of tradition that represents the very fabric of Bahamian culture, GBPA officials saw it fit to sponsor the Junkanoo groups as the parade is scheduled for the holiday season.
The Bayshore Warriors,  Classic Dancers, Kingdom Culture, Platinum Knights, Showtime, Superstar Rockers, Top Performers and the Swingers were the proud recipients of the donation.
Lorine Miller, representing the Swingers Junkanoo Group, the winners of the 2014 News Years Junkanoo parade, said she was grateful to accept the donation from of the Grand Bahama Port Authority.
"We are excited about the upcoming 2015 New Year's Day Junkanoo Parade," said Miller.  "We are so thankful for this donation because it will definitely push us further in our preparations," she added.
Jonathan Glinton, Bayshore Warriors representative also expressed his appreciation of the donation as he noted the financial difficulty that Junkanoo groups often experience.
"The sponsorship is not like those of years past, but we will make the best of it," said Glinton.  "We want to thank The Grand Bahama Port Authority for their assistance because they always make an effort to help the groups," he concluded.
Pleased to present the groups with financial backing, GBPA President Mr. Ian Rolle said contributions that mirrors this endeavor aligns with GBPA's overall objective.
"We at the Grand Bahama Port Authority were indeed overjoyed to present these well deserving groups with the much needed financial support that they need, because they are the persons who depict what our culture is all about.  We are excited that we were able to assist these persons who serve as an active part of true Bahamian culture and we wish them all the best of luck for the upcoming Junkanoo Parade set for the new year," Rolle said.
Grand Bahama Port Authority