British Actor Warren Brown To Star In Bahamian Film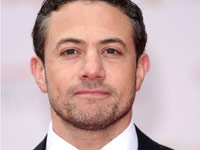 British Actor Warren Brown of BBC America's critically acclaimed crime drama series "Luther" will star as the main character in the Bahamian feature film "Cargo" by award-winning filmmaker Kareem Mortimer.
"Cargo," written and directed by Mortimer explores the miry world of human smuggling and is loosely based on Mortimer's 8-time award-winning short film "Passage".
Brown, also known for his roles in "The Dark Knight Rises" and "Byzantium" will star as Kevin, a humble fisherman who becomes a prolific human smuggler to pay off a debt.
Trevite Willis and Alexander Younis are producing the film which features a cast of Canadian, British and Bahamian actors. Canadian sales agent Cinemavault will handle worldwide distribution and sales of the film. Production is slated to begin in May in Nassau.
"Cargo is perhaps the strongest film I've ever written and I feel a strong sense of responsibility in making sure that this film has the capability of reaching the greatest amount of people around the world without loosing artistic credibility," stated Mortimer. "The addition of Warren Brown and the co-operation with one of the most-respected sales agencies in North America are all positive and exciting steps."
Fusion Media