Crystal Palace Casino Staff Transitions To Baha Mar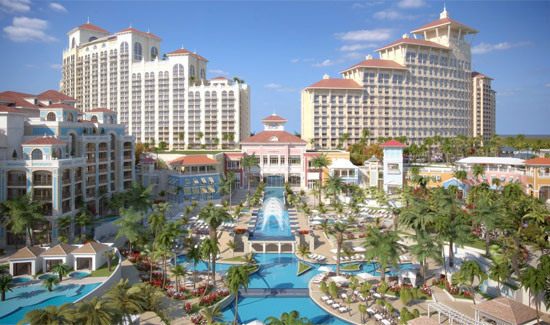 As expected, the Crystal Palace Casino will close its doors on February 12, 2015 in preparation for the much-anticipated opening of the $3.5 billion Baha Mar development on March 27, 2015. The current Crystal Palace casino team is transitioning to Baha Mar, with approximately 55 employees moving into new positions at the Baha Mar Casino & Hotel, the largest and most exciting casino in the Caribbean.
"We're fortunate to have the experienced casino team from Crystal Palace to help us open the beautiful, state-of-the-art Baha Mar Casino & Hotel," Paul V. Pusateri, Baha Mar's Chief Operating Officer, said. "Our Baha Mar casino team will provide guests with a best-in-class gaming experience that will draw players from around the globe." Baha Mar continues to hire and train thousands of new employees for areas throughout the resort, including the casino, hotels, food and beverage, security, guest relations and engineering, Pusateri added.
Tom Dunlap, Baha Mar's President, noted that the Crystal Palace has been a long-established player in the Nassau tourism market. "We want to thank all of our past guests who have fond memories of the Crystal Palace, and invite them to experience all of the luxury, relaxation, elegance and gaming action that Baha Mar has to offer," Dunlap said. "From private gaming salons to golf, nightclubs, eclectic shopping experiences and fabulous dining, Baha Mar will offer guests the ultimate beach resort experience."
The beachfront resort first opened as the Cable Beach Casino in 1983, and was rebranded as the Crystal Palace in 1988 under the ownership of Carnival Cruise Lines. Baha Mar purchased the property in May 2005 from the Ruffin Group as an early step in the transformation of the scenic Cable Beach area into a world-class destination gaming resort. That vision will be fulfilled this Spring as Baha Mar makes its international debut, introducing a new era of glamour, luxury and gaming excitement to The Bahamas.
Submitted By Baha Mar
About Baha Mar
Baha Mar, scheduled to open on March 27, 2015, is set on 3,000 feet of white sandy beach just 10 minutes from Nassau's fully renovated and expanded international airport.  It will feature an elite collection of hotel brands with gaming, entertainment, private residences, shopping and natural attractions that reflect an authentic Bahamian experience.  The Baha Mar Casino & Hotel includes a 1,000-room hotel and a 100,000-square-foot Las Vegas-style casino. Baha Mar also will include a 700-room Grand Hyatt, a 300-room SLS LUX, and a 200-room Rosewood at Baha Mar. Amenities will include TPC at Baha Mar, a Jack Nicklaus Signature golf course; 200,000 square feet of flexible convention facilities, including a 2,000-seat entertainment venue; an ESPA spa; art galleries featuring Bahamian art; more than 40 restaurants, bars and clubs; global luxury designer and local artisan boutiques; and 20 acres of exquisitely landscaped beach and pool experiences, including a beachfront sanctuary with native Bahamian flora and fauna. In addition, upon completion of renovations, the all-inclusive Meliá Nassau Beach will become part of Baha Mar. For more information please visit www.bahamar.com