GBPA Test Drives New Road Rejuvenation Product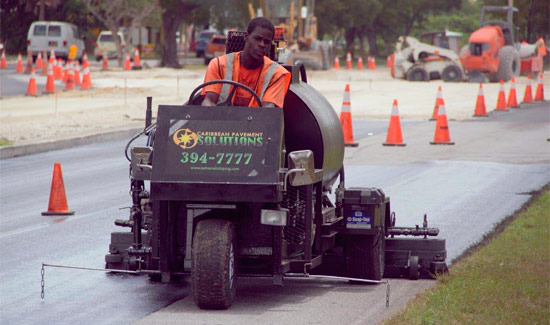 Freeport, Grand Bahama – The Grand Bahama Port Authority (GBPA) is test driving a new road rejuvenation product on one of the island's busiest roads, in a move designed to save the company thousands of dollars.
In October 2014, executives from Bahamas Striping Group of Companies (BSGC) and other representatives traveled to the island to lay 100 feet of its proprietary, rejuvenation product on Fortune Bay Drive.
GBPA's top level executives and technical team members were on hand to view the application process and the product firsthand. The demonstration followed months of ongoing discussions and submission of the product's technical data and Material Safety Data Sheet (MSDS).
"We wanted the history of the product, its background and due diligence on safety and longevity," explained GBPA's city manager, Troy McIntosh in a recent interview.
BSGC's managing director, Dr. Allen Albury emphasized the rejuvenation product's 40-year history of utilization by the US Airforce, commercial airports and various municipalities to preserve and extend the life of asphalt pavements.
"Our product not only seals a treated pavement but it is chemically designed to penetrate the pavement and comes with a three-year warranty.  Imagine roads not just in Grand Bahama but across the Bahamas with no more pothole and crack developing?" he said.
"This is what our product is guaranteed to do. Other products just seal the top surface and without fail within the first year it will crack, peel, flake and wear off."
BSGC president Atario Mitchell expressed his pride in transitioning from a product showing to signing a new client. Rejuvenating the new East Sunrise roundabout adjacent to the old bowling alley marks the company first paid road rejuvenation product on the island.
"I am confident that other roads in Freeport will be rejuvenated as it will preserve the roads, extend life, prevent potholes and cracks from forming and will save the GBPA thousands of dollars," he said, providing the sub-base isn't damage.
Mr McIntosh acknowledged that the first testing area is holding up "pretty well." Still, he said the real test began late last month with the Sunrise Highway – that busy, dual highway with a median and two lanes running in both directions.
"With a traffic density of about 1,500 vehicles per hour between 7:30am to 9:30am, this will really be 'the' test for us to see how the product will hold up," he said.
The asphalt rejuvenation product will take a real beating over the next three months, not only from the traffic but also from the adverse weather associated with the hurricane season.
"We need to make sure the integrity of the road, the friction, remains the same. It's a wait and see for us," said Mr McIntosh. "If we can use this going forward with preventative maintenance, it will save us three or four years of having to repave a road."
Mr Mitchell said he's confident the quality of the product will exceed the GBPA's expectation.
"In our original testing area, there's been no new pot holes forming and no typical ageing and wear to that area," he said. "We have built up a great track record and we are confident this latest test will demonstrate the product's resistance to wear and tear, meaning a longer life span for the road and saving our customer thousands of dollars."
After establishing his subsidiary, Caribbean Pavement Solutions Limited (CPSL), as a licensee of GBPA, Mr Mitchell is pleased to be rolling out The Dollar That Could (TDTC) campaign in Grand Bahama for the very first time.
A fund raising mechanism, TDTC donates to charitable organizations. Moreover, the company commits a percentage of all its rejuvenation sales in Grand Bahama, up to $20,000, to the campaign.
This year's beneficiaries is set to include the Grad Bahama Children's Home, the Grand Bahama Humane Society and Grand Bahama Rotary Clubs.
Precision Media
Caption: Caribben Pavement Solutions a subsidary of the Bahamas Striping Group work on the East Sunrise Highway wrapped up this month.