Giovanni Stuart Plots Media Return with New GenerationZ Live Radio Internet TV Show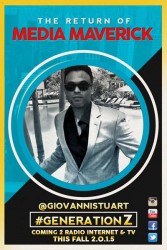 BAHAMAS, Nassau: National News Anchor & Reporter, Giovanni Stuart, is plotting a return to frontline Media, with #GenerationZ, a new, syndicated, live-streaming Radio Internet TV Show, coming to the airwaves, this Fall.  The Broadcast Artist teased a preview on his Facebook page, over the weekend…

"#GenerationZ is a new format, live Radio Talk Show, for a new, digital Generation of professionals…" explains the Communications Executive, Giovanni Stuart, serves as Executive Producer & Lead Host of #GenerationZ. 

"This new variety show will put a 'phresh' spin on daytime Talk Radio from The Bahamas… We will rip from the headlines, with trending topics, like Politics, Law, Health & Fitness, Business, etc., but moreover, I get to continue my career-long passion and mantra of promoting creative exceptionalism; the best and brightest of Bahamian Artists and Culture, 

to The Bahamas and the World…"



#GenerationZ is set to showcase an eclectic line-up of Local, Regional & International Newsmakers and Guest Hosts from the Cultural Community.  " I will tap my amazing network, from The Bahamas, to Hollywood, the Caribbean, Canada, United Kingdom, China, Europe, and beyond…" gleaned Giovanni, who is The Bahamas' pioneering Official iReporter and a popular Entertainment Reporter.
The Broadcast Journalist highlighted, " #GenerationZ will feature insightful perspectives, canvas the vibrant & rhythmic culture of The Bahamas and the new and veteran artists, entertainers and culturalists who colour our world…"