BTVI Treats Senior Citizens To A Day Of Glam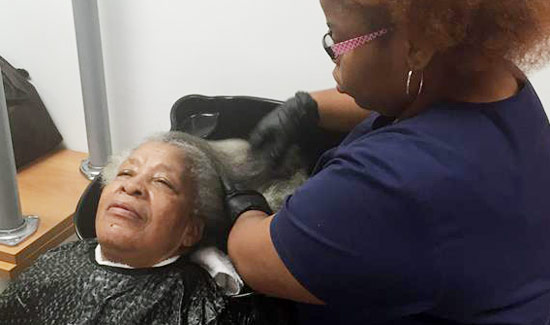 GRAND BAHAMA – Senior citizens have paid their dues and the Cosmetology department of The Bahamas Technical and Vocational Institution (BTVI) in Grand Bahama believes they deserve a treat. Recently, the team held a pop-up salon at the Urban Renewal Center in the Harbour West Plaza and in a scene that was heart-warming, the young women gave elderly women manicures, pedicures and shampoo services.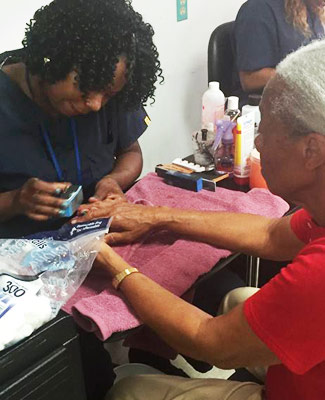 Although the shampoo service was for a minimal fee, the manicures and pedicures were complimentary, with 14 senior citizens taking advantage of the opportunity.
Questioned as to the benefits for students, instructor, Dr. Carla Rolle-Armbrister said there are several. "It helps the students to gain exposure, field experience, interact with clients while community networking. On the other hand, the elderly benefits by feeling appreciated while socializing with their peers and students," said Ms. Armbrister.
The students were receptive to the idea of servicing the elderly through community service, in addition to the chance for another off-site learning experience.
Student, Marina Allard, noted that the pop-up salon was very exciting and informative.
"Although we travelled off campus to give the services to the elderly, I am benefiting from this initiative because as I work, I am learning from my instructor and classmates, as well as the elderly. We had an exchange of knowledge," recalled the 46-year-old.
Marina added that she wholeheartedly supports the cosmetology program at BTVI and admires how involved it is in community service. "My instructor, Ms. Armbrister, is doing a wonderful job with training her students. We help each other as we move through the program," she stated.
Another student, Shanice Russell applauded the department for its efforts and observed how she and her peers continue to grow from such experiences.
"The instructors here take time to ensure that all students gain the information needed to become skilled in their courses. As a cosmetology student, I have learnt to interact with people on a professional level. Before I became a student here at BTVI, I did not realize the importance of communication skills as it relates to my course and community service," said Shanice.
BTVI's Associate Vice President, Veronica Collie, underscored the importance of experiential learning, even outside of their normal labs.
"They usually have the experience from the salon at BTVI, but I thought it would be great for us to move away from the traditional way that the students make contact to service people. It is always good to give back to others," said Ms. Collie.
"The students have all been very receptive to this initiative and are all enjoying it. We have completed our final Pop-Up Salon for this school year and the students are all looking forward to the spring 2016 semester for the continuation of this initiative of community building," she added.
Meanwhile, Ms. Armbrister expressed how excited she is about what BTVI Grand Bahama is doing. She said the pop-up salon has become a signature for the campus. "Every customer from the pop-up salon gave me positive feedback and was very interested in where we would be in the days and months to follow," she stated.
The cosmetology department plans to hold its next pop-up salon in West End in May 2016 in observance of Teachers' Appreciation Month.
The Bahamas Technical and Vocational Institution (BTVI)