Kelly's Introduces 24th Bride of the Year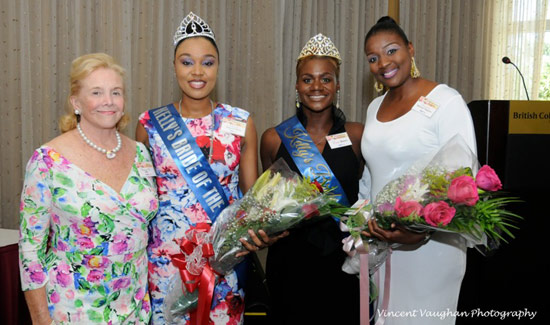 Kelly's 24th Bride of the Year is Johnette Ferguson Morris, a dedicated science teacher at CR Walker and mother of a tiny baby girl. She says, "I was both surprised and excited to be chosen Kelly's Bride of the Year for 2015-16. I really love working with children and I think the judges liked my involvement in the community." Mrs. Morris, Kelly's Bride of the Month for July, 2015, is an advisor for her school's Interact Club and the Gov. General's Youth Award, in addition to active involvement in her church's Sunday School and Training Center.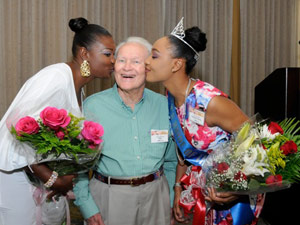 Her first year of marriage has "been a bit of a challenge as Laniya, our beautiful premie, was born weighing just three pounds! She's up to seven pounds now and has been home only a month. We are so blessed."
She urges potential brides to register for Kelly's Bride of the Month and Year promotions, "Not just because of the wonderful gifts and prizes, but because of the wonderful people you meet! Also, the bridal consultants are so helpful you'll be amazed at their good advice." She is married to Lavardo Elkino Morris who works at Atlantis.
Runner up this year–in another very close competition– is another teacher, Shavania Samantha Robinson-Ferguson, who is married to Michael Vernal Ferguson, a mortgage consultant with Colina.
Retiring Bride of the Year 2014-15, Erin Brown-Brown gave an inspiring speech before turning her crown over to Johnette. She said "Love matters in everything you do." She added, especially to bridegrooms, "She chose you, too. You will set the tone by adding your flair and your strength. You are equally important and together, everything is possible".
Erin lost a leg to bone cancer 12-years-ago, lost her mother to lupus when she was only 17 and a daughter to an accident. Her solution? Founding Erin Brown Connects (motivational speaking, public relations and marketing for events) and the Erin Brown Foundation, focussing on empowerment for the disabled and for young women. Started in 2006, the foundation's sporting division provides advocacy and vocational training for persons with disabilities.
"I let them know that life is not over. We are able to do things, just differently. We still can get it done, perhaps with assistance from a device or accommodations like a ramp or a person holding a door. … We just need a whole lot of patience. My personal journey is showing that no matter how hard it is… there is a divine plan for all of us. "
She and her husband, Tametryo Brown, married in October, 2014, and are involved in the care of seven children, counting their own new daughter, Jupitor.
Kelly's House and Home President Nancy Kelly shared memories of her "47 years of happy marriage" to the late David Kelly and thanked the committed judges and bridal consultants who make the Bride of the Year and the Bridal Department such a success." She pointed out "When my friend Sara Parker and I came up with this idea, we were looking for a different way to honour our Kelly's Brides. We never dreamed Kelly's Bride of the Year would still be going strong 24 years later. We already are working on special ideas for our 25th Anniversary Bride of the Year Competition next year. "
Sara Parker–co-creator of the event as Kelly's Account Executive with P. S. Advertising, now a realtor and TV producer–says "That's 288 Brides of the Month so far, 300 by the 25th year! The anniversary will coincide with 90 years of Kelly's."
"The first year is really all about 'getting to know you.' Learning to share is the most important thing, " Mrs. Kelly advised the Brides of the Month and their husbands, gathered with Kelly's House and Home staff at the Hilton British Colonial, Bay St. "Each Bride of the Month is a woman who is making positive contributions to our community. Keep up your good deeds and together, we can build a better Bahamas."
The Bride of the Year receives a $1,000 gift certificate from Kelly's House and Home plus hundreds of dollars in prizes including: 6 place settings and a platter and serving dish in "Crestwood Gold" Fine China from Noritake; Black & Decker Toaster Oven and Blender; A Sunbeam Mixmaster; Presto Deep Fryer; Leonx 5 x 7 picture frame and decanter by Kate Spade; Wedgwood Wine Coaster and Stopper Set and Steel Nut Bowl, both by Vera Wang; Maxway Imports 12 Pc. Mega Stainless Steel Pot Set; Stolzle 18 oz wine glass set of 6; Borg Weight Tracking Scales; Mikasa/Wallace "Blaine" 20 pc. cutlery set; Gibson Overseas "Litchfield" Twin Glass Beverage Dispenser and 16 pc. beverage set in "Great Foundations Square".
The Runner Up received: a $250 Gift Card from Kelly's House and Home; Black & Decker Toaster Oven and Blender; Kennedy Digital Bath Scales; Mikasa Emory 16 pc Dinnerware Set; Mikasa/Towle silver plated 8 by 10 "Beaded" frame; Gibson Overseas/Issac Mizrahi 45 pc. stainless steel "Georgina" cutlery set; Kitchenaid 2 pc. Skillet Set from Meyer Company; Stolzle 18 oz. wine glass set of 6 and a 16 pc. beverage set in "Great Foundations Square".
Judges agreed, this year's competition was even closer than usual. Kelly's 2015 Brides of the Month and husbands are: Nakita Bowleg-Nesbitt (January) Stephen Nesbitt
Raquel Neely-Paul
(February) Kareem Paul
Chauntez Moxey-Turnquest
(March) Kristofer Turnquest
Katisha Forbes-Corneilla
(April) McAlex Corneilla
Nakita Robinson-Cash
(May) Jamaal Cash
Jiamara Campbell-Johnson
(June) Jansen Johnson
Johnette Ferguson-Morris
(July) Lavardo Morris
Shavania Robinson-Ferguson
(August) Michael Ferguson
Tami Williams-Dorsett
September) Randol Dorsett
Denika Major-Smith
(October) Lawrence Smith
Curtika Ward-Armbrister
(November) Kevin Armbrister
Tereah Albury-Thomas
(December) Deandro Thomas
"Each Bride of the Month receives a Kelly's House and Home gift card for $250 and hundred's of dollars in various top brand products sold by Kelly's," says Buyer Karen Darville.
Kelly's Bridal Department Head Beverley Maycock pointed out,"It is so easy to enter our Bride of the Month and Bride of the Year competition. Simply come to Kelly's House and Home Bridal Department in the Mall at Marathon and register your choices of bridal china and crystal. It's that easy. Of course, you also can register all your bridal choices, right down to a BQ grill for the bridegroom. Our well trained bridal consultants will help you find exactly what you want from our wide variety of products."
Mrs. Kelly emphasized, "I want to thank our Judges who each year select brides who keep our bridal commitment strong. To our Brides of the Year, you are all winners. I wish you all success in your life and with your dreams."
Kelly's House and Home judges for the 2015 Bride of the Year Competition were: Vincent Vaughan and Nelson George, who have served as judges for all 24 years; and Ann Casserly and Gwen Bayles. Kelly's Human Resources Manager Judith Adderley served as MC for the stylish event held at the British Colonial Hilton, Nassau.
By P.S. News/Features