Something To Write Home About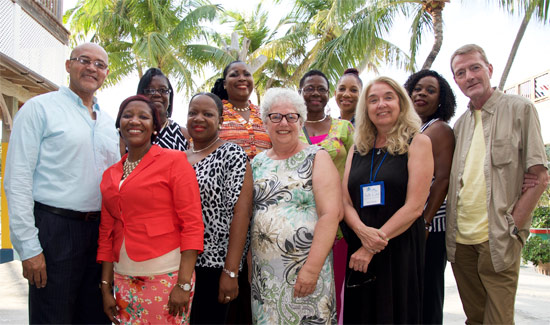 The third annual Salt Cay Writers Retreat (SCWR) ended on a resoundingly positive note and with special Bahamian flair on Saturday, May 28.
The six-day retreat, hosted on Salt Cay – better known as Blue Lagoon Island, catered to emerging writers with a full program of workshops, panel discussions and one-on-one reviews with published authors and literary agents. Since 2013, SCWR participants have come from near and far to learn from the retreat's seasoned faculty. This year, many of them returned with improved manuscripts and renewed energy.
"This year is really fantastic," said SCWR Co-founder and published author Karen Dionne. "We have a smaller group but I'm hearing so many comments from students and faculty that they're really enjoying the smaller size because it's a more intimate retreat and people are learning a lot and retaining more."
She added: "We have two students here who have come all three years, and five total who were here last year as well. Just the fact that so many come again tells you how much they really love the island and the format of the retreat. One person has published a book. Another returning student signed with an agent here last year and he's working on his next novel."
Local residents were encouraged to get involved in the retreat's workshops by registering for the SCWR special single-day registration, offered exclusively for locals.
On Saturday, May 28, residents in search of guidance on their works in progress were invited to a day at Salt Cay complete with panel discussions on need-to-know skills, such as fine-tuning novel taglines, as well as the writing practices of well-published writers. Discussions also covered the process of becoming a published writer, from manuscript to publication.
The day's pièce de résistance, though, was the exclusive "two pages, two minutes" workshop, which gave day registrants the chance to read their first two pages aloud to a group of their writing peers and literary agents, with the agents treating the material as they would a formal submission. Reading authors got meaningful feedback on their works in progress with tips on maintaining voice and captivating the reader.
For Shenique Moxey, a teacher on New Providence, the single-day offering packs so much of a punch it was worth returning to attend. Moxey participated in the SCWR single-day special in 2014.
"It was awesome," she said. "I learned a whole lot that I didn't know before. I was working on a book and the last retreat inspired me to finish my book. So this year I'm here to share and learn some more."
Sarah Appleton, an informatics officer at Doctors Hospital, has been working on her novel for four years, but registered for the single day in search of professional guidance.
"I feel I need the support and the direction of editors and publishers to say, 'Yes, you should continue in that vein', or 'No, you need to write this from a different angle'. I'm hoping to be able to take their suggestions and make my book more attractive to a greater audience."
She added: "It's wonderful that we have these opportunities in The Bahamas and we have people like Kelly Cartwright-Meister and others who organize these things for us so that we're not so isolated. A lot of opportunities come to The Bahamas and we should really be making the most of them."
Alicia Wallace is one Bahamian who has certainly been doing that. Wallace has attended all three Salt Cay Writers Retreats faithfully, since 2013, registering twice for the single day and once for the full week. This year, she returned as a single-day participant, bringing her women's fiction work in progress with her.
"I brought it the first year to the single day retreat and got a lot of great feedback on the first two pages. And then I brought the whole thing back last year for the full week, and it was really great to be able to workshop it with a group of people who gave me lots of good feedback. Then I took it home and spent the entire year going through it and making some changes. I'm excited to see what people think about it this year.
"It is such a great community of people, it kind of feels like family now. Here, I find a group of people that I really trust with my work and to give me honest and critical, but friendly, feedback."
The day ended with a Bahamian feast on Salt Cay sponsored by the Ministry of Tourism.
"The Salt Cay Writers Retreat is really a return to the island's literary roots," said Blue Lagoon Island Managing Director Robert Meister. "William Styron finished his novel 'Sophie's Choice' on Blue Lagoon Island, and many others have written all or part of their novels here. We thank the Ministry of Tourism for co-sponsoring this event and helping to cultivate a unique sector of tourism that encourages writers to visit, learn, relax and be inspired by the beauty of The Bahamas."
For more information on the Salt Cay Writers Retreat visit the retreat online at http://saltcaywritersretreat.com/.
Corinne Lampkin
Caption:
SCWR Feast: Members of the Ministry of Tourism joined some of the faculty of the Salt Cay Writers Retreat at the retreat's closing event – an island feast at Blue Lagoon Island. From left are Ministry Senior Director of Airlift Development Tyrone Sawyer, Shelly Adderley, Toni Thompson, Evamae Ferguson, Aretha Major, SCWR coordinator Karen Dionne, Dianne Clarke, Portia Bethell, SCWR featured author Ann Hood, Sylvana Rahming and SCWR featured author Lee Child. SALT CAY WRITERS RETREAT