Perennial BRL Top Producer Silvina M. Andrews Stars In One Cable Beach Sales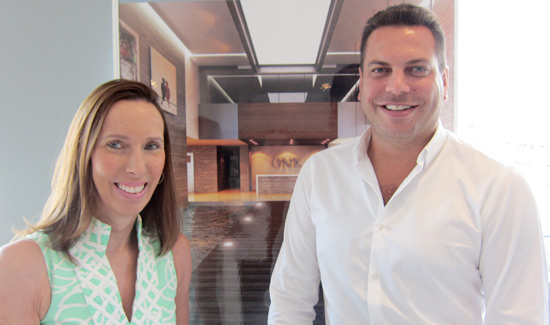 Bahamas Realty's perennial Top Producer Silvina M. Andrews, Broker, CRS, BRI, has chalked up five sales in as many months at One Cable Beach (OCB). The luxury condo development is under construction, reaching for the stars alongside one of the Bahamas' most beautiful beaches.  Completion is set for  Spring, 2017.
"This success was partly due to colleagues in my own company that trust me with their clients. Working with Matthew Marco at OCB is a treat.  He is engaged and 'here' 24/7.  We've exchanged many phone calls and emails during very late hours in order to communicate with European clients."
Mrs. Andrews reports.  "Clients are thrilled and feel the special treatment. In general, it's been a very good year working with international clients. I have also worked with many Bahamians who've been focused on securing their real estate investment despite these 'hard times'."
Mrs. Andrews and Mr. Marco are featured at One Cable Beach in the December "Bahamas Realty Now" show airing in December on ZNS Cable 11 and JCN Cable 14, as well as on The Bahamas Realty You Tube Channel.
Noted for "Working smarter, not harder," the veteran realtor recently organized an innovative reception for Bahamas Realty agents and their clients to view the future of luxury real estate in Nassau and Paradise Island.  Guests were able to discuss the new developments with agents and developers,  plus loan and wealth management officers from The Royal Bank of Canada.
"I don't feel like I specialize in any particular area but rather I like to focus on quality listings regardless of the price.  It's important to me to have a relationship with my buyers and sellers and I don't like to spread myself thin."
Mrs. Andrews is a member of Bahamas Realty's hardworking Sales Leaders Team which acts as a vital link between management and agents, resulting in higher productivity and sales. "I also am proud to be a mentor for two incredible ladies who joined our team somewhat recently.  I have watched Ana Wassitsch and Sonya Alvino grow as confident and very successful agents in a short time."
Named three times as the Top Producing Agent for her company,  Mrs. Andrews was especially pleased to see one of her protegees, Sonya, named as Top Producer for Exclusive Listings at the most recent BRL Awards luncheon.
"Most important is that I'm happy in my environment.  Bahamas Realty has a very cohesive team. Our appraisal, commercial and sales departments work very closely to help each other out.  We have a very 'sharing' culture in our office and all the agents tend to have a turn being the Superstar on the team."
She explains how to succeed, even in tough times, without appearing to be overworked or even stressed out. "Purchasing a home should be fun and exciting. I try very hard to take on the stress so the client doesn't have to.
"Real Estate is a service industry and clients will remember the entire experience. So I take the time to step out of the box and make their experience memorable," she says…quietly.
When Mrs. Andrews does speak, the whole room leans forward to listen, whether she is speaking fluent English or Spanish. (Born and raised in Buenos Aires, Argentina, she grew up in Canada, where she completed her education before moving to Nassau at age 22.) She uses her multi-cultural  background to ease transitions for her cosmopolitan mixture of clients.
She adds, "During these difficult times it has been difficult for buyers to find financing.  I've had a couple of experiences even in the luxury market where financing fell through time and time again but, thankfully, I have built some relationships during my time in this business. With the clients' trust, we managed to make it work."
"Silvina's wit, easy going nature, intelligence and professionalism all appeal to high worth clients who value personal service and privacy. Her fluency in both Spanish and English, plus travel experience in many cultures, are great assets for international clients whether relocating to The Bahamas or searching for investment properties," says Bahamas Realty CEO W. Larry Roberts, SIOR, CIPS, CRS, e-PRO, RECS.
With the quiet voice of reason, Silvina offers clients and colleagues a wealth of experience with the international market and a comprehensive understanding of relocation needs, family dynamics and cultural diversity. Her expertise has now gone live in an interview by Wells Fargo for her insights on buying a second home in The Caribbean. Check it out: https://conversations.wfmagazines.com/article/caribbean_home_purchase_process
P. S. News/Features
Caption: Sales Leader– Silvina M. Andrews of Bahamas Realty,  confers with Matthew Marco of One Cable Beach, new luxury development offering luxury and privacy in the heart of Cable Beach with a selection of beautiful spacious condominiums available from a small inventory of boutique residences. Mrs. Andrews has sold five of the amazing units. The two are featured at One Cable Beach in the December Bahamas Realty Now show airing in December on ZNS Cable 11 and JCN Cable 14, as well as on The Bahamas Realty You Tube Channel  Photo by P. S. News/Features