Peace on the Park Rally leads to BTVI Scholarships
A recent Rotary sponsored peace initiative in Bain and Grants Town has reaped rewards for two residents of the area, landing them scholarships to The Bahamas Technical and Vocational Institute (BTVI).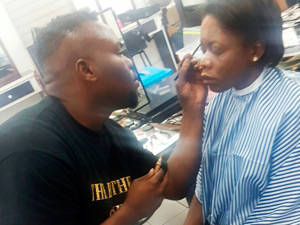 Lerenzo Charles and Yasmine Williams are presently in BTVI's Face Care and Makeup Application I course, thanks to the Rotary Bahamas Road to Peace Committee in consultation with the Rotary Bahamas Scholarship Committee, led by Chairman Philip Cummings. The scholarships, which include tuition and supplies, are to help them launch their own small businesses in the area, helping to further its development, as well as give residents the opportunity to become self-sufficient.
The message of peace and conflict resolution was taken to the streets, in and about the Hay Street area, encouraging the pursuit of wholesome activities. Meanwhile, the Rotary Road to Peace committee is dedicated to helping reduce the incidences of crime and violence in local communities, by working with organizations in those communities to provide effective counter measures to crime and violence.
Yasmin expressed her elation over learning she was a recipient of the scholarship and how she intends to capitalize on the five-week program.
"I knew I did not have the money to sign up for it, and it was a great opportunity at the time so I was excited. It will help me to get my certificate, and then open my business or work for myself until I can open the business and expand," said Yasmin.
"I plan to buy makeup and start to sell it from home because I already do makeup from home now. I am grateful because I believe that BTVI was a part of me getting the scholarship. If it wasn't for the persistence of the Associate Vice President of Fund Development, Alicia Thompson and her constant encouragement for me to enroll and collect my supplies that the Rotary also donated, I would not be here today," she added.
Lerenzo is also grateful, stating that the course is a stepping stone to his vision of entrepreneurship.
"I find a great liking in seeing others look clean and sharp and being able to make one's appearance stand out from others. I want to take beautification to a whole new level!" he exclaimed.
"It will propel me to achieve the goals and steps that I want to achieve. I want to open a business dealing with beautifying oneself. For example hair, makeup, skin – total beautification, total makeovers. My plan is to open my own beauty spa and the scholarship is helping me to achieve that. It gave me a great opportunity to make that extra leap. It got me started," said Lerenzo.
Lerenzo lauded Rotary Bahamas as a corporate citizen, setting the standard for others in corporate Bahamas to follow.
"I am very grateful for the opportunity that they gave me and I am very thankful to know that someone is out there – that people are out there willing to take the initiative to help young people like myself succeed or make progress," said Lerenzo.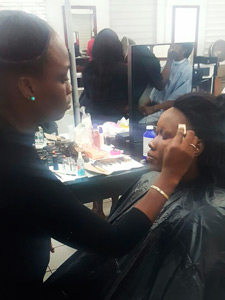 Yasmin agreed that Rotary Bahamas ought to be applauded for its efforts.
"I think they are looking out for the people in the community and they have done a great job, because they have taken a lot of young people off the streets. They have helped young people to stay more occupied," said the 22-year-old.
BTVI's president, Dr. Robert W. Robertson also had commendation for Rotary Bahamas, noting that he strongly believes education is one of the keys to improving one's socio-economic conditions, thus putting a dent in the crime problem.
"We were pleased to have our team on the ground of the peace event, headed by our Associate Vice President of Fund Development, Alicia Thompson. It was an excellent avenue to get the word out there that BTVI offers affordable excellence. We are an institution where you can learn a trade and earn a living," said Dr. Robertson.
Captions:
The Rotary Bahamas Road to Peace Committee in conjunction with the Rotary Bahamas Scholarship Committee has afforded two residents of Bain and Grants Town the opportunity to pursue a professional development course in Face Care and Makeup Application at The Bahamas Technical and Vocational Institute (BTVI). Standing L-R: Past Assistant Governor and Committee Co-Chair, Stan Charlton; Past President, Jamaal Davis; Committee Member and BTVI's Associate Vice President of Fund Development, Alicia Thompson; Committee Member, Mike Russell and Assistant Governor, Tim Ingraham. Seated L-R: scholarship recipient, Yasmine Williams; BTVI's President, Dr. Robert W. Robertson and scholarship recipient, Lerenzo Charles. Photo: Shantique Longley
Lerenzo Charles, who wishes to become a pro at face care and makeup application, applies makeup to a client during a class at BTVI. Photo: Alicia Thompson
Yasmin Williams landed a scholarship to BTVI to study Face Care and Makeup Application. Photo: Alicia Thompson