2004-12-11 05:47:09

Tiamo Resorts Wins Second Annual Bahamas Web Awards
Unique eco-tourism resort wins the most coveted prize in the Bahamas Web industry, the Best of The Bahamas Award.
Tiamo Resorts, the unique eco-tourism resort located in Andros, won top honours at this year's Bahamas Web Awards ceremony. The luncheon ceremony at the British Colonial Hilton was attended by over 40 representatives of the best web sites in the Bahamas.
The Bahamas Web Award's top honour, The Best of The Bahamas award sculpture, was custom-designed and hand-carved from Bahamian Tamarind and Madeira woods by reknowned Bahamian sculptor Antonius Roberts. The exquisite 30-inch trophy sculpture is branded with the distinctive AR insignia and affixed with an engraved brass plate displaying the URL of the winning site.
The Bahamas Web Awards is the leading national honour for the best among Bahamian web sites. There were 42 sites entered into this year's contest.
The award ceremony, which was preceded by a delicious lunch, presented awards in three web site categories; tourism, non-tourism and government-civic, for both the People's Choice Awards and the Judge's Selections Awards. The People's Choice Award winners were selected by the web community at large through an online voting system. The Judge's Selection Winners were carefully chosen by a panel of distinguished judges including Mr. Roberts, Basil Smith - Director of Communications for the Bahamas Ministry of Tourism, Jassin Yacks - a US-based graphic designer and web developer, Larry Smith - President of Media Enterprises and Dr. Gilbert Morris - Executive Director of the Landfall Centre.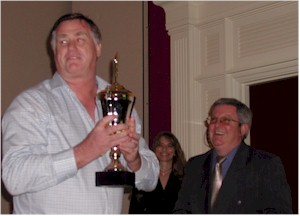 The winners of the People's Choice Awards were: Bahamas Conference of Seventh-day Adventists (Goverment-Civic Category), the Miami Dolphins Bahamian Website (non-Tourism Category), and Eleuthera Homesite (Tourism Category). The Overall Winner of the People's Choice Award was Eleuthera Homesite.

The winners of the Judge's Selection Awards were: The Nassau Institute (Goverment-Civic Category), Thyme Online (non-Tourism Category) and Tiamo Resorts (Tourism Category).

Mike Hartman, President of Tiamo Resorts, accepted the Best of the Bahamas Award sculpture from Mr. Roberts himself. Tiamo Resorts also walked away with the Judge's Award in the Tourism Category.

Guest speaker Brian Nutt, President of the Bahamas Employers Confederation, was delightfully surprised to receive the first annual Hall of Fame Award for his outstanding contributions to the Bahamian Web industry. (Click here to read the full text of Mr. Nutt's excellent speech.)

The Second Annual Bahamas Web Awards were sponsored by The Bahamas Portal - BahamasB2B.com, Benelda.com Web Design, The Bahamas Ministry of Tourism, Cable Bahamas' Coralwave and The Bahamas Hotel Association.

Bahamas B2B thanks every site that entered and the many people and companies who helped make this year's contest a success. The quality of the web sites that were entered into the contest this year made judging difficult. In the non-Tourism category especially, it was an extremely close competition with Island Living Real Estate, Honda Bahamas, HG Christie Ltd. and Oceanic Bank all less than a percentage point away from the winner, Thyme Online.

Click here to view photos of the Second Annual Bahamas Web Awards Luncheon

&nbsp