'Send a Prayer' To Raise Funds For Children
December 13, 2012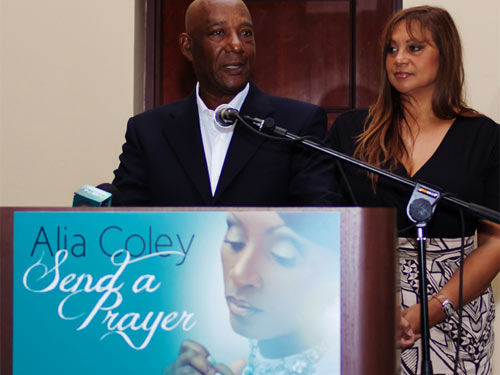 Dozens gathered at the British Colonial Hilton for the official launch of a fund-raiser with a timeless melody, a song written by one of soft rock music's all-time greats and performed by one of today's leading Bahamian vocalists with proceeds going to brighten the lives of children in need at Christmas in The Bahamas.
Called 'Send a Prayer,' the touching single was written by Errol Brown, former lead singer of Hot Chocolate whose hits include the pop classic "I believe in miracles, you sexy thing."
It is performed by Bahamian song star Alia Coley and was recorded at Gerizim Studios in Nassau.
Composer and singer Brown has said that when he wrote and sang the words, "I believe in miracles," he never dreamed that the miracle he would be looking for would be help for children in need. But when Brown moved to The Bahamas a decade ago, the former Hot Chocolate singing sensation was moved by what he saw and particularly, by the disparities in the way people lived. Mostly, he was struck by how many children there were in need of basic clothing, shoes, books and enough food to keep them from going to bed hungry.
He started a charitable foundation and through golf, his hobby, organised tournaments for the Errol Brown Children in Need Foundation. Over the years, and without publicity or fanfare, and with partners like Kerzner International, The Herrod Foundation, Scotiabank and Bank of The Bahamas, he raised more than $500,000 through the tournaments. Administrative costs were kept to a bare minimum.
Now Brown and vocalist Alia Coley who teamed up to produce the touching Christmas single to support those children are appealing to the public to support the effort with sales of the single that will be available in more than a dozen locations throughout Nassau between now and Christmas . Each single is $7.
Proceeds will go to children at homes throughout The Bahamas including the Ranfurly Home for Children, Elizabeth Estates Children's Home, Children's Emergency Hostel and the Nazareth Centre in New Providence as well as the Every Child Counts program in Abaco and the Old Bight Children's Home in Cat Island, along with individual young people whose names are provided by the Ministry of Social Services.
Sale locations include Kelly's Home Centre, Marathon Mall, Super Video (all locations), Nassau Stationers (Rosetta St), Studio Plus (Soldier Rd), Custom Computers (both locations), 100% Bible Gift & Book Store (both locations), Chapter One Book Store (Thompson Blvd).
Diane Phillips and Associates
Caption: BELIEVING IN MIRACLES: Hot Chocolate Lead Singer Errol Brown believes that the public can aid hundreds of children in need this holiday season by purchasing the new Christmas single "Send a Prayer." The new single was produced by Brown and features lead singer Alia Coley. CDs are available at Super Video, Audio Plus, 100% Bible Book Store, Buy the Book, Chapter One Book Store, Kelly's and several other locations for $7 each.