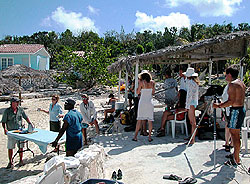 The Bahamas is known for stunning vistas and breathtaking sunsets. In fact it's hard to get anything but a great picture when surrounded by the natural beauty of these islands. And that's exactly why Spotty Dog Productions chose to spend two weeks and over $100,000 here on a major advertising photo shoot. Tom Hayes and his New York based production company have worked with a myriad of photographers and some of the largest advertising agencies in the world. The photographer on this assignment was Frits Berends, who with his mastery of available light and skilled use of the wide-angle format, captured the beauty of The Bahamas in a way that borders on fine art.
The production team, headquartered at The British Colonial Hilton, numbered nearly thirty people including several local Bahamians. The group was dispatched via boats and seaplanes, to various locations each day, shooting hundreds of rolls of film in total. Amongst the locations were Rose Island, Sandy Cay, and The Exuma Islands. In describing a sand bar in the Exumas, the well travelled Berends said, "It's unbelievable! It is one of the most beautiful locations in the world," a thought that was echoed by everyone in the crew.
After two weeks of working under the blazing sun the New Yorkers left The Bahamas with great photos, dark tans and the pleasant feeling of a job well done. Except for one rainy day the production was virtually snag-free, thanks to the hard work and help of so many.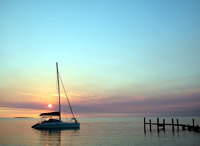 Sincere thanks to Angela Archer and Donna Mackey at The Bahamas Film Commission who went to extra lengths to ensure a smooth production. Co-operation from all levels of government was exemplary and indicates the importance that the government places on bringing film industry work into this country.
Thanks also to Michael Hooper and his excellent staff at the British Colonial Hilton, who were all extremely accommodating. Special thanks to the Hilton's Alan Dourado who jumped through flaming hoops on more than one occasion, and to Raymond and Terran at the front door for making everyone in the crew feel so welcome.
And what would we have done without Nigel Bower and the incredible staff at Powerboat Adventures! Their awesome powerboats, indispensable barge and extensive knowledge of the Exuma islands proved invaluable to the success of the production.
Finally, thanks to Dale and Cat at MacDuffs on Norman's Cay, whose delicious food and gracious hospitality kept the crew in good spirits.
Thanks to everyone involved.