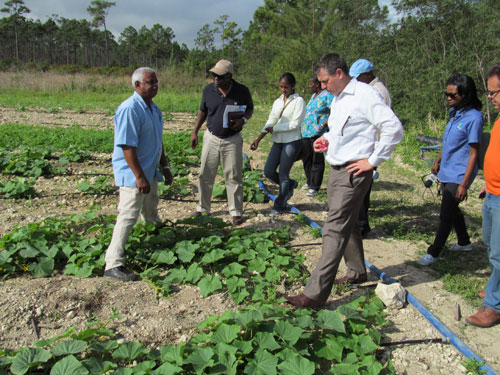 North Andros High School is setting the pace in linking agriculture to the tourism sector.
Through an agreement with Sheraton Nassau Beach Resort and Casino, North Andros High is providing that four-star operation with fresh fruits and vegetables.
"I am very impressed," said Glenn Sampert, Sheraton's general manager. "The fields are larger than what I expected to see, the shade houses and other aspects of the operation are really surprising and I am happy to be here and meet with the students. We already had some produce last year and we were very happy with the results."
Along with a high level regional and government delegation, he toured the operation on Wednesday.
They included Manuel Messina (Inter-American Institute for Cooperation on Agriculture), Mrs Juliet Mallet Phillip (Organisation of American States), Arnold Dorsett (Bahamas Agricultural and Industrial Corporation), and Earlston McPhee (Ministry of Tourism).
"We have a very close connection between what is going into the field and our culinary department and our executive chef so we are able to answer questions on type of products we are most interested in and some of the characteristics of them," said Mr. Sampert. "We really appreciate having that relationship with the grower."
The impact of the initiative on food costs at the hotel has been neutral, he said.
"We are paying market prices to the school. So it's not something where we are asking for a discount nor are we paying above market price. It really is a win-win."
The resort is also interested in native fruits and berries, he said.
"We view what's been happening so far as being just the beginning," said Mr. Sampert. "In the fields right now there are onions, tomatoes, cucumbers and herbs. But the more indigenous fruits of The Bahamas are very much something we are interested in."
The quality of the North Andros product, he said, "is equal to and in some cases even fresher. So one can arguably say it is as good as or better than what we are able to procure from very large growers in other parts of the world."
Mr. Sampert has been pushing the initiative among members of the   Bahamas Hotel and Tourism Association of which he is a board member.
"I have already been talking to my colleagues there," he said. "Everyone when they hear about it, it's similar to my reaction, that that just makes a lot of sense and they are interested. I don't think I will have to twist any arms."
From two small plots 20 years ago when agricultural science teacher Rai Budhu joined the staff, the school today cultivates a variety of items including tomatoes, zucchinis, squash, thyme, cucumbers, onions sweet peppers, and beans on a four-acre spread.
So successful has been the programme, it is being used as a model to encourage agriculture in other schools.
"Most of the work is done by the students," said Mr Budhu. "We have some very keen students. You can depend on them. Give them a task and they will make sure and get it done.
"The important thing is they are being taught how to produce food…and that is what I am satisfied about. I am preparing young minds to feed themselves."
The relationship with Sheraton began last year with hundreds of bags of onions and tomatoes being purchased. It was subsequently reinforced with a memorandum of understanding.
"They give us a forecast of what they would need and we make sure that we have the produce to meet their demand," said Mr Budhu, originally from Guyana.
Proceeds from agriculture programme have funded many of the school's projects.
"We are hoping to make much more money now that we have a buyer," he said.
Their next project is construction of an agricultural block on the school's campus, Queen's Highway, Nicholl's Town.
"From the time it started, this has been a self sustaining programme," he said. "We did not depend on any external agencies to help us."
The school use to have a livestock programme.
"Its difficult to continue with livestock like chickens, goats and sheep because of the cost of the feed," he said.
"We have to teach the economic aspect of agriculture and if the children see they are not making a profit, it would be senseless. So, until we can get feed at a cheaper price or we produce the raw material to make feed in this country, I don't see livestock as a feasible alternative."
Earlston McPhee, director, Sustainable Tourism, Ministry of Tourism, sees more opportunities as agriculture links with tourism.
"We want to encourage other hotels to follow the leadership of Glenn Sampert and Sheraton and as responsible corporate citizens to really contribute to the development of this country by at least seeing how best they can source some of their food items locally.
"We don't want them to compromise quality or price but somewhere along the road we can do something to ensure that we reduce our food import bill," said Mr Sampert.
Arnold Dorsett, BAIC's assistant general manager for agriculture hoped the initiative did not end when the students graduated.
"They are continuing to do an excellent job and we would like to see them get a piece of land and generate some revenue for themselves," he said.
"We don't want to see students leave North Andros and go to Nassau to be unemployed when they can be here working and generating a source of income.
"So it would be good to see the Government consider giving portions of land to graduates of this programme so that they can get into their own farming projects.
By Gladstone Thurston
Bahamas Information Services